If you're shopping for beauty products, it's difficult to make a decision on such personal items without trying them on. virtually try on makeup
Say you want to know how sheer a lip gloss is, how much pigment is in an eyeshadow or what a product will look like on your skin tone, it can be difficult to understand these things without seeing the products up close.
To make it easier for you to answer these questions from home, Google is  working with data partners ModiFace and Perfect Corp to help you better visualize thousands of lipstick and eyeshadow shades from your favorite brands like L'Oreal, MAC Cosmetics, Black Opal and Charlotte Tilbury.
Now, when you search for a lipstick or eyeshadow product, like L'Oreal's Infallible Paints Metallic Eyeshadow, you can see what it looks like on a range of skin tones and compare shades and textures to help you find the right products.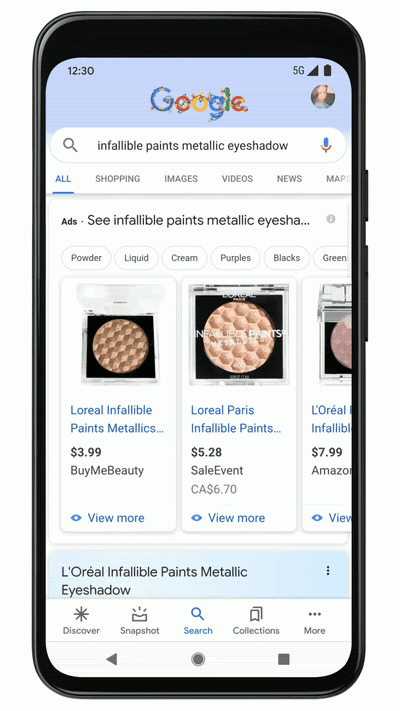 To help you find the perfect match, you can now also virtually try makeup products right from the Google app. Find the perfect nude lip by searching for MAC Powder Kiss Lipstick and quickly trying each shade in the collection.
If you're looking for a velvety matte lipstick for your holiday video calls with family and friends, search for NARS Powermatte Lip Pigment and find the color that matches your style.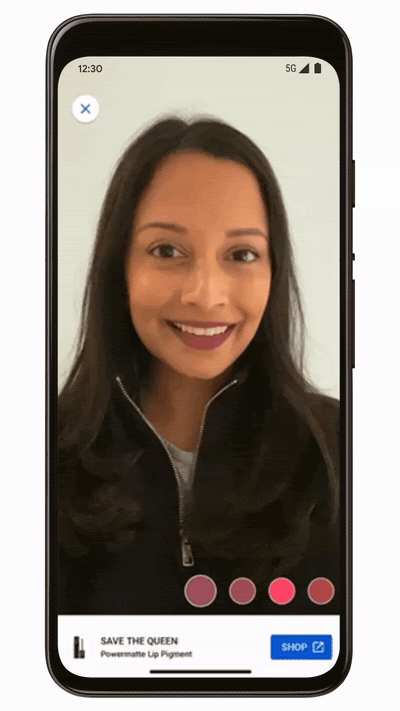 Get recs from experts and enthusiasts
virtually try on makeup
Sometimes it's helpful to get recommendations and see how products work for other people. Now as you browse Google Shopping on your phone or scroll through the Discover feed in the Google app, Google'll show recommendations from beauty, apparel and home and garden enthusiasts and experts about their favorite products. If a product catches your eye, you can hear directly from experts on why they love the product and how they use it.
Hear from professional makeup artist Jonet on what products can help you achieve that dewy fresh look or learn how Homesick Candles make the perfect holiday present.  Once you've found a product you love, you'll be able to easily shop these recommendations.
This new feature comes from work done by the Shoploop team, which was formerly part of Area 120, Google's in-house incubator.