With Vodafone Global Roaming, there's no extra charge to use your UK allowances of data, minutes and texts in our Roam-free destinations. If you exceed your UK allowances, you'll be charged our standard out-of-bundle rates for using data, making calls or sending texts.
The same charges apply whether you're in the UK or our Roam-free destinations.
Vodafone Global Roaming is the service offered to customers allowing them to use their inclusive calls, texts and data in many locations. Those a bit further away get the same but for a cost of £6 a day.
In May, Vodafone Global Roaming are changing some of the £6 a day locations bringing in an additional 42 to the list, and these are below.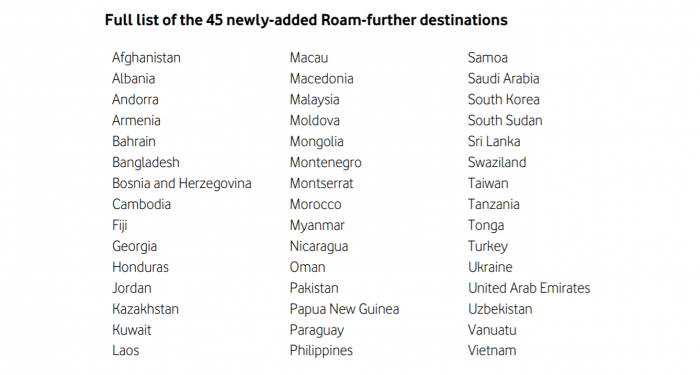 Whilst this is great news for many, the company have decided to move Albania, Bosnia and Herzegovina and Turkey from the free roaming service to the £6 a day version instead.
Customers won't need to do a thing to benefit from these locations changes, just go abroad, pay your £6 per day and use your phone with no worry on cost.
First for 5G Roaming
Visiting Europe?