POCO has just launched their latest gaming smartphone, the POCO F4 GT. POCO F4 GT launched and this launched new phone is packed with features that gamers and POCO fans will love. The POCO F4 GT has a large 6.67-inch display, a powerful Qualcomm Snapdragon 8 Gen 1 processor, and up to 12GB of RAM.
Elliptic Labs, a global AI software company and the world leader in AI Virtual Smart Sensors™, is launching its AI Virtual Proximity Sensor™ on Xiaomi's upcoming Poco F4 GT gaming smartphone to the global market. Working with Elliptic Labs' partner Qualcomm, the Poco F4 GT smartphone is driven by the Snapdragon 8 Gen 1 chipset. The contract for this launch was announced previously.
"Elliptic Labs continues to deliver powerful software-only AI Virtual Smart Sensors that empower global OEMs like Xiaomi to make devices smarter, greener, and more human friendly," said Laila Danielsen, CEO of Elliptic Labs. "We are proud that our AI Virtual Smart Sensor Platform™ has enabled our partner Xiaomi to bring many smartphones to market that are delivering on their vision for innovation and growth."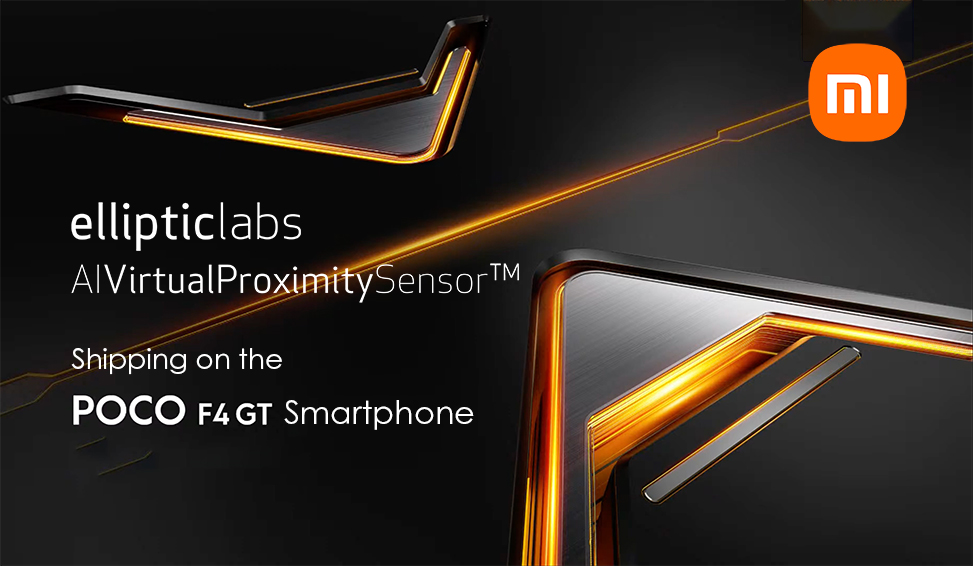 AI Virtual Proximity Sensor
Elliptic Labs' AI Virtual Proximity Sensor turns off the smartphone's display and disables the screen's touch functionality when users hold the device up to their ear during a phone call. Without that capability to detect proximity, a user's ear or cheek could accidentally trigger unwanted actions during a call, such as hanging up or dialing numbers while the call is ongoing. Turning off the screen automatically also helps conserve battery life. Proximity detection is a core capability that is used in all smartphones across today's market. Elliptic Labs' AI Virtual Proximity Sensor delivers robust proximity detection without the need for a dedicated hardware sensor. By replacing hardware sensors with software sensors, the AI Virtual Proximity Sensor reduces device cost and eliminates sourcing risk.
POCO F4 GT Specs
The POCO F4 GT has a large 6.67-inch display, a powerful Qualcomm Snapdragon 8 Gen 1 processor, and up to 12GB of RAM. Plus, it has a massive 4400mAh battery that supports 120W fast charging, so you can keep playing for hours on end.
The phone is powered by Snapdragon 8 Gen 1 processor and features a 6.67-inch Full HD+ display with a high refresh rate of 120Hz. It also has a triple rear camera setup that includes a 64-megapixel Sony IMX686 sensor, an 8-megapixel ultra-wide angle lens, and a 2-megapixel macro lens. The phone comes with 8/12GB of RAM. It runs on Android 12 with MIUI 13 on top. The POCO F4 GT is priced at 8+128GB: 599€ (Early Bird 499€), 12+256GB: 699€ (Early Bird 599€) and will be available wordwide.
About Elliptic Labs
Elliptic Labs is a global enterprise targeting the smartphone, laptop, IoT, and automotive markets. Founded in 2006 as a research spin-off from Norway's Oslo University, the company's patented software uses AI, ultrasound and sensor-fusion to deliver intuitive 3D gesture, proximity, presence, breathing and heartbeat detection experiences. Its scalable AI Virtual Smart Sensor Platform™ creates software-only sensors that are sustainable, human-friendly and already deployed in hundreds of millions of devices around the world. Elliptic Labs is the only software company that has delivered detection capabilities using AI software, ultrasound, and sensor-fusion deployed at scale. The company is listed on the Oslo Børs.
Elliptic Labs is headquartered in Norway with presence in the USA, China, South-Korea, Taiwan, and Japan. Its technology and IP are developed in Norway and are solely owned by the company.
Like this? Comment it. Share it.