Although countries around the world are reopening their doors for international travelers, new coronavirus cases continue to rise and many travelers either canceled or postponed their travel plans. most popular 2021 destinations
Although there are a number of destinations that are still not able to be visited this year,interest in 2021 holidays has been growing in the past few months. In fact, according to Google Trends, searches for '2021 holiday' have increased by 124% when compared to the end of March.
Keen to find out the most popular destinations, luxury travel company Kuoni analyzed both the UK and global Google search data to discover which destinations 131 countries around the world were searching for the most for their 2021 trips.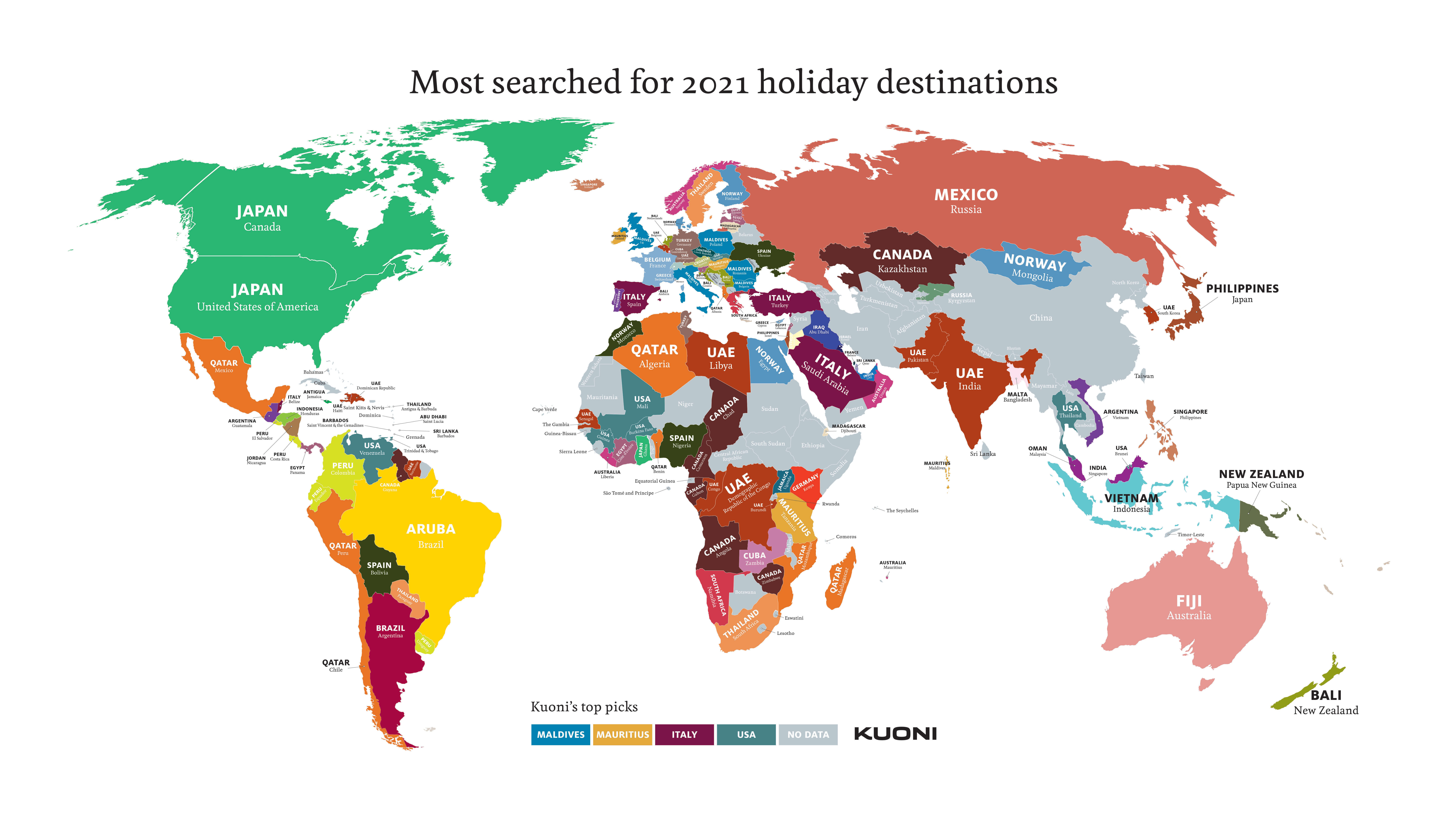 In Australia, it's nearby Fiji, with its picture-perfect beaches and views, that is the most popular destination for 2021. Japan and New Zealand followed closely behind, and beautiful Bali came in at 4th place. Slightly further afield, Canada is the 5th most searched for destination for 2021.
World's Most Popular 2021 Holiday Destinations
1. United Arab Emirates
2. =Qatar
2. =USA
2. =Canada
3. Egypt
Australia's Most Popular 2021 Holiday Destinations
1. Fiji
2. Japan
3. New Zealand
4. Bali
5. Canada
Looking at the global data, the results show that the United Arab Emirates is the most popular destination for 2021, followed by Qatar, Canada, and the USA, which all share joint 2nd place, and Egypt at 3rd place.
Continent by continent, the Maldives is European's top holiday destination for next year. In Asia, the UAE and Canada are joint top as the most common Googled destinations for 2021, UAE is also number one in Africa, whereas Peru is the most popular 2021 destination in South America.
Dean Harvey, marketing director at Kuoni, comments: "With various stages of lockdown still the case for many places around the world, it's not surprising that lots of us are wanting to book something to look forward to. It's fascinating to see how popular destinations differ from country to country and the upturn in Google searches matches the upturn in 2021 bookings we've seen in recent weeks, with Maldives holidays being booked the most." 
* Methodology – Google search data (searching all languages) was used to establish the average monthly search volume in each country for the terms '[destination] 2021' and '[destination] holiday 2021' for hundreds of the most popular destinations. The most searched for destination was then used as the top destination for 2021 for that country. Data was from April 2020. The most popular destinations by continent and globally were decided by the destinations that were most frequently the top destination by country.