A busy summer has gifted Munich Airport massive growth in all traffic figures in 2022: Passenger numbers rose by 19 million year on year to a total of 31.6 million.
The airport has thus regained two-thirds of its record-breaking pre-pandemic result from 2019. The number of aircraft movements nearly doubled compared with 2021 to more than 285,000 take-offs and landings. The seat load factor of the aircraft in Munich equaled the record figure of 77.5 percent from 2018. With a total of 210 destinations in 63 countries, Bavaria's aviation hub now has excellent links with the global route network once again.
Jost Lammers, CEO of Munich Airport, says: "The gradual lifting of travel restrictions has re-awakened people's desire to travel. This has prompted airlines to significantly expand their flight capacity. The bookings received by the airlines indicate that traffic growth at Munich Airport will continue in 2023."
After a weak first quarter, which was still influenced by the pandemic, demand for flights increased enormously. While only four million passengers were counted at Munich Airport over the first three months, the busiest third quarter saw traffic of more than ten million travelers. The pent-up demand has been particularly noticeable in long-haul travel: Since July, traffic between Munich and destinations in the US has already been higher than the 2019 level. Since the flight schedule for winter 2022/2023 came into effect, this has also been true of traffic to destinations in India, South Korea, Singapore and Thailand.
If you are looking for a hotel near Munich airport, here are the best ones.
Hilton Munich Airport
Located between terminals 1 and 2 in Munich Airport, this grand hotel has a striking glass façade, a spa with a pool and a 24-hour gym. Rooms feature large, soundproofed windows.
The Hilton Munich Airport provides spacious, air-conditioned rooms decorated in soft cream colours. Bathrobes and slippers are provided.
Munich city centre can be reached in 40 minutes by S-Bahn train.
Moxy Munich Airport
Located in Schwaig bei München, just less than a 5-minute drive from Munich Airport, this hotel offers stylish accommodation with free WiFi access, as well as on-site fitness facilities. Each room at the MOXY Munich Airport feature a 42-inch flat-screen TV with satellite channels, and air-conditioning. There is a 24-hour front desk at the property. Other facilities include a shared lounge and an on-site bar ideal for relaxing. The hotel is also very pet-friendly.
Ramada by Wyndham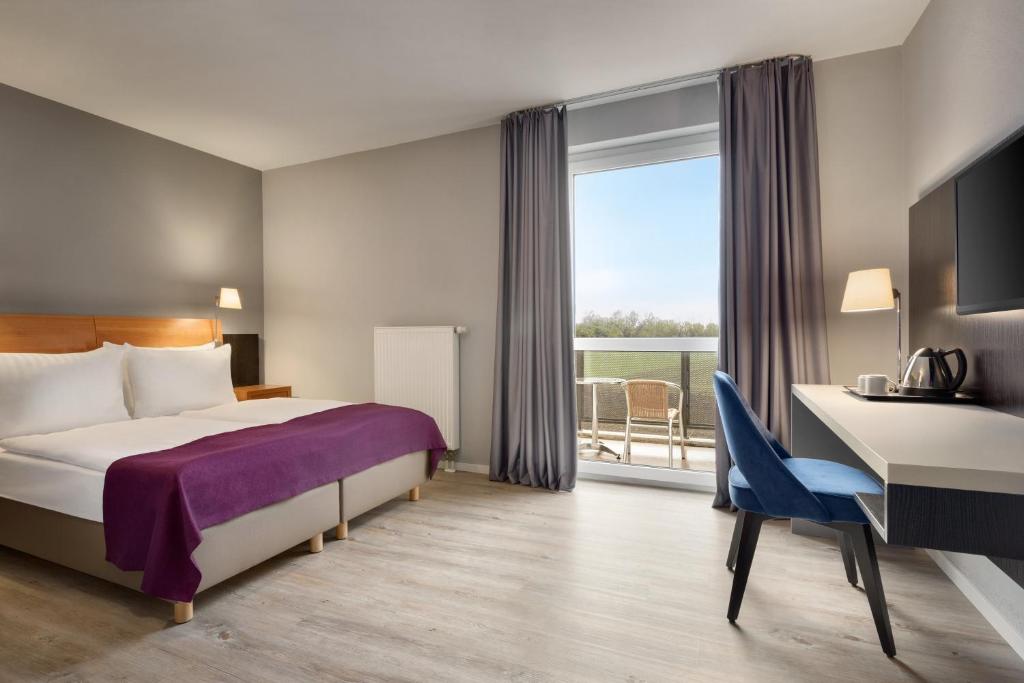 Situated in Oberding, just 4 km from Munich Airport, this hotel offers modern soundproof rooms, a shop and a 24-hour reception. The Ramada by Wyndham Munich Airport has rooms with air conditioning or a balcony/terrace, a flatscreen-TV, telephone and free WiFi. The Ramada by Wyndham Munich Airport's George & Co. restaurant serves European food and there is also a beer garden in the summer. The property offers conference facilities for a wide range of celebrations and events.
Air freight has also benefited from the boom in traffic at Munich Airport. In 2022, freight volume increased by 55 percent to a total of around 259,000 metric tons.
Is it a good idea to visit Munich? Yes! What to do in Munich, find out here.
Improvement of passenger checkpoints gets underway at Terminal 2
Munich Airport
Renovation work gets underway at Munich Airport's Terminal 2: The central security checkpoint at Munich Airport's Terminal 2 is being modernized and equipped with state-of-the-art technology, with completion scheduled for fall 2024. As a result, passengers of Lufthansa and its partner airlines will benefit from faster, more effective procedures and much greater convenience.
Instead of the familiar traditional checkpoints, lanes with innovative technology will be used in the future. First of all, in the week commencing Monday, December 12, 2022, Lufthansa's Service Center on Departures level 04 will be sealed off and dismantled to create the required space. A newly designed Service Center will be opened in the southern part of the check-in level. During the renovation phase of the screening lanes starting in January, passengers will be rerouted, and the number of screening lanes will be reduced at times.
Once the work is complete, passengers will benefit from a total of 15 new security screening lanes that meet the highest standards in terms of convenience and ergonomics. The Southern Air Office of the regional government of Upper Bavaria, the body responsible for passenger checkpoints at Munich Airport, is installing special CT scanners here.
As well as checking all items of carry-on baggage for solid and liquid explosives, the CT scanners provide the screening staff with a three-dimensional view of each carry-on baggage item on a screen. These new CT scanners mean that electronic devices and liquids will no longer have to be removed from passengers' baggage. All personal items will be placed in large trays at the four preparation points of each lane and returned on a long output conveyor with lots of individual space. Passengers can take as much time as they need, and can even overtake slower passengers. As the modern screening lanes are so efficient, the passenger flow per screening lane can be increased significantly compared with the conventional screening lanes.