The global women's health app market size is expected to reach USD 3.9 billion by 2026 at a CAGR of 17.9%, according to a new report by Grand View Research, Inc. Public and private sector organizations are focused on women's health across the globe, which is likely to drive the market in the coming years. Increasing use of mobile phones is one of the key factors driving the market in developed countries.
need an international sim card? get it here
Health and fitness related mobile apps are gaining popularity among smartphone users across the globe. Approximately 700 million people have internet access and 86% of the people are reported to have internet connection on their phones.
Factors such as increased mobile phone penetration, changes in dietary habits, and rising stress among the working population are anticipated to impel market growth. Furthermore, favorable policies initiated by governments to improve women's health and raise awareness are likely to propel market growth during the forecast period. Women are at a higher risk of diseases such as osteoporosis, osteoarthritis, anemia, menstrual health-related disorders, depression, and obesity. Hence, increasing incidence of these conditions is likely to drive the market.
According to Statista, in April 2019, 4 billion users utilized mobile phones wherein mobile devices accounted for 48% of views on web pages worldwide. Fitness apps are extensively used due to rising consumer shift towards healthy lifestyle and wellness therapies. Key market players such as Fitbit and Apple are introducing apps that can track menstrual cycle, predict ovulation period, and calculate fertility window.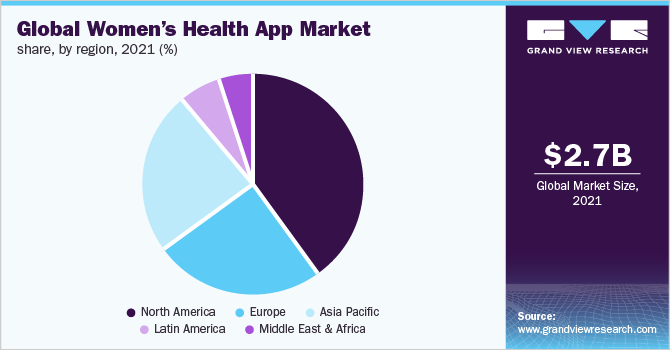 Menstrual apps are able to track ovulation and guide women who are trying to conceive or avoid pregnancy. In June 2019, Apple added a menstrual cycle tracking software called Cycle Tracking, compatible with Apple's Health App. The software is now available with iOS 13 and Watch OS 6 updates. This software will help women in predicting their ovulation cycle, record cycle history, track symptoms such as spotting and cramps. In addition, it will predict fertility windows, providing overall prediction of menstruation and reproduction.
Economic growth in developing countries allows better access to medical care. In 2014, the North American Menopause Society (NAMS) developed a free mobile application called MenoPro. The aim was to help menopausal women and clinicians in personalizing treatment on the basis of user preferences, including risk factors and medical history. The app offers two modes, one for users and one for clinicians. In addition, it interprets medical history and risk factors to provide a list of optimal medical decisions depending on the severity of the case.
In June 2017, Adidas launched a fitness app in the U.S. called All Day. The app is available for both iOS and Android. It offers insights on aspects such as movement, mindset, and nutrition, and rest. Apps for menopause and perimenopause provide detailed information and advice related to health conditions and allow women to log changes to their menstrual cycle.  
According to the World Health Organization (WHO), health status of women is usually poor and they are susceptible to some diseases, particularly after menopause. Thereby, software companies are developing mobile applications to support women in maintaining their fitness. For instance, in June 2019, Apple announced the addition of Cycle Tracker, a menstrual cycle tracking software compatible with Apple's Health App on upcoming iOS 13 and Watch OS 6 update. The software will help in predicting ovulation cycle, record cycle history, track symptoms such as spotting and cramps. In addition, the software can also predict fertility windows providing overall prediction of menstruation and reproduction.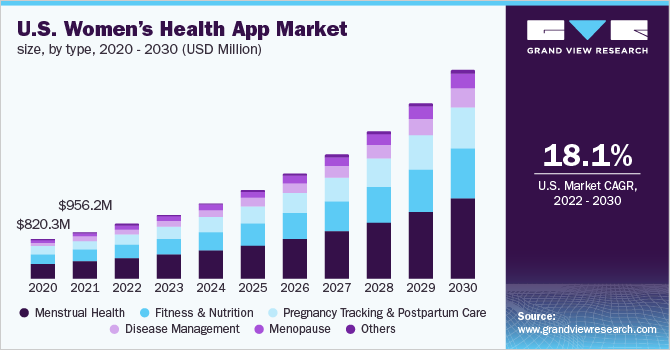 To learn more about this report, request a free sample copy
Arthritis pain can be reduced by modifying daily activities and practicing healthy habits. The Track + React app launched by the Arthritis Foundation lets users log in their nutrition intake, exercise, medications, sleep, and mood. It tracks the information in the form of graphs to identify behavior that causes an increase in arthritis pain.
Medical device companies are increasingly collaborating with software developers to introduce various monitoring and diagnostic applications that enable people to easily communicate with their healthcare physicians. Emerging economies such as Malaysia and Thailand have also encouraged development of low-cost mobile technology. These companies are developing diagnostic tests that will ease routine check-ups. Patients can now take a sample of blood in the diagnostic device connected to the smartphone and the app shows a detailed analysis. It can also store the report for future reference.
Some of the key players in the market are Flo; Clue; Apple Inc.; Eve; Tracker; Google LLC; Withings; and FitBit Inc.