While large parts of the USA and Japan are drowning in snow, European snowfalls have been below average. The start of the year with unseasonably mild temperatures and unwanted rainfall is further exacerbating the already precarious snow cover at ski resorts in Switzerland. switzerland skiing
Several lower-lying ski areas in Switzerland have been forced to close or seek alternatives for tourists during the peak school holiday season. Unseasonably warm weather, coupled with rainfall, has eroded much of the ski runs in areas below 6,500ft, resulting in the temporary closure of the following ski areas:
Sattel-Hochstuckli — 4,892ft (1,491m)
Hochwang — 7,230ft (2,204m)
Klewenalp/Beckenried — 6,358ft (1,938m)
La Dôle — 5,505ft (1,678m)
Marbach-Marbachegg  — 4,921ft (1,500m)
Moléson — 6,568ft (2,002m)
Grimmialp — 6,200ft (1,890m)
Splügen-Tambo — 7,267ft (2,215m)
Most of the resorts forced to close are smaller mom-and-pop resorts in lower-lying areas of Switzerland. The larger, more well-known resorts are mainly located at higher altitudes and have been faring better. Nevertheless, many are still experiencing sup-par conditions. Zermatt currently has only about half its ski area open.
Some ski resorts have tried to find alternative activities to boost their offering for tourists, such as operating their summer luge, offering yoga classes at altitude, or hiking with mountain goats or alpacas, like the small resort of Flumserberg close to Zurich, Switzerland's largest city, did.
Men's FIS Alpine World Cup
The Swiss resort of Adelboden will hold the Men's FIS Alpine World Cup this coming weekend, and pictures from the webcam and social media of the finish area look rather bleak. The Local Organization Committee, however, is optimistic they can get the course ready in time and have been trucking in artificial snow to finish the last few meters of the race course.
It is bizarre to think that parts of the Northern Hemisphere are drowning in snow and others have a below-average season. Let's hope things even out a bit more over the next few weeks and the ski season improves in Europe.
Data from the Institute for Snow and Avalanche Research (SLF) shows that ski stations, particularly in low-lying areas, are facing increasing difficulties.
The decline in days with snow-covered ground
switzerland skiing
According to the SLF, the last 30 years have been uniquely low in snowfall, especially on the Swiss Plateau, with the trend statistically significant at ski stations below 1,300 meters (4,265 feet).
SLF research shows the changes become more pronounced the lower a station is located.
There is, however, no clear trend for snow depths in high winter – December through February – above 2,000 meters (6,561 feet).
According to the SLF, which has been taking measurements since 1971, the vast majority of stations have seen a clear decline in days with the snow-covered ground, regardless of their elevation or location. 
Mountains, Valleys and Lakes of Switzerland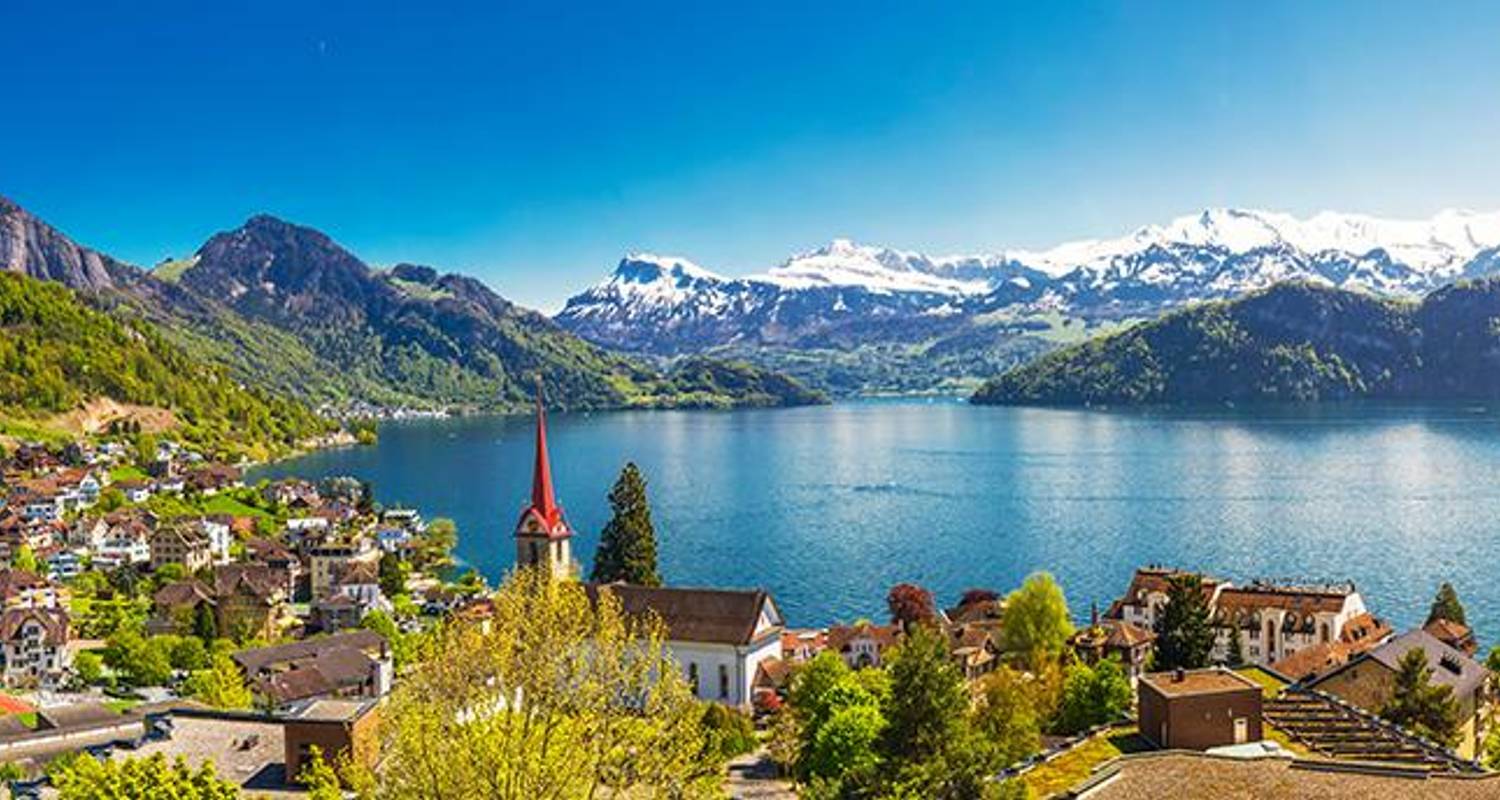 Uncover Switzerland's hidden gems, explore remote alpine valleys, scale mountain slopes along historic railways and stand in awe of breathtaking waterfalls – all the while savouring rich flavours and a fascinating culture laden in time-honoured traditions. Join us as we gain a unique insight into the Swiss way of life while journeying through one of Europe's most scenic countries.
7-Day Switzerland Independent Tour of Mountain Tops
With the pre-booked hotels and convenient transfer services, you will enjoy a worry-free 7-day independent trip to the most popular attractions in Switzerland: Mount Titlis, Jungfraujoch – Top of Europe, Gornergrat, Lucerne, Interlaken, and Zermatt. Enjoy your exciting exploration of the beautiful snow-capped mountains!
Magical Switzerland                   (Classic tour, 7 Days)
Experience the magic of Switzerland. Start your Swiss adventure in Lucerne, a stunning 14th century fortress city sitting on a lakeshore and surrounded by snowcapped forests. Voyage through the frosted peaks and frozen waterfalls of the Grison Alps to the Alpine ski resort of St Moritz—a retreat frequented by royalty and James Bond in the Spy Who Loved Me. Board the Glacier Express to Brig and adventure through the heart of the Swiss Alps in the Albula Pass tunnel, before crossing the skyscraping Landwasser Viaduct and descending through the Rhône Valley. Explore the car free, cobbled streets of Zermatt Village at the foot of Mount Matterhorn and in the Swiss capital, enjoy a sumptuous Geneva fondue dinner at Le Petit Chalet.