SoftBank Corp has launched a subscription service that lets customers drive a used car at a fixed monthly rate, as it tries to diversify its business portfolio amid slow growth in the flagship mobile phone business. softbank car subscriptions
The Japanese telecom company has set up Carro Japan Corp in Tokyo, a joint venture with Singapore-based online used car retailer Trusty Cars Pte Ltd, for the new service.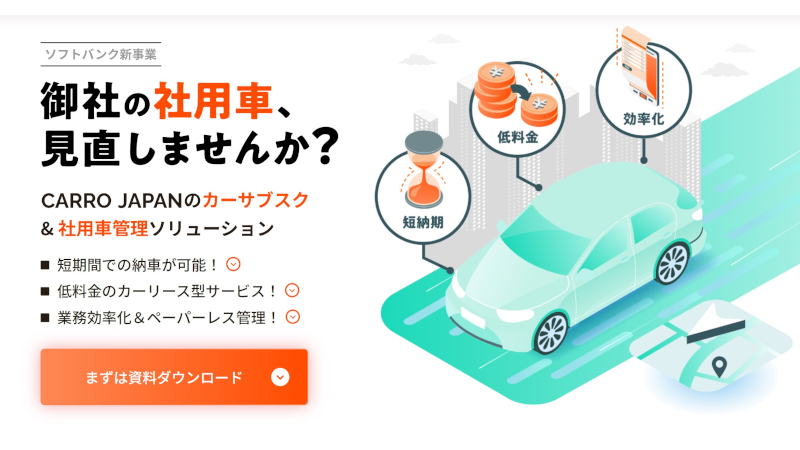 Carro Japan started the service for corporate customers Tuesday, with an eye to expanding it to individual customers through partnership with SoftBank's group companies such as Yahoo Japan Corp.
The joint venture will utilize artificial intelligence to analyze the used car market so it can offer better deals than what competitors offer, SoftBank said.
The new service is part of SoftBank's efforts to diversify its revenue sources as its telecom operation struggles after the Japanese government propelled its push to lower mobile phone fees in recent years.
Demand for used vehicles has been growing as the delivery of new cars has been delayed amid a global chip shortage, said SoftBank.
The mobile carrier now directly competes with leading carmakers such as Toyota Motor Corp and Honda Motor Co, which offer similar subscription services. SoftBank holds a 51 percent stake in the joint venture, while Trusty Cars has the rest.
Market environment
Various issues have surfaced in Japan's automotive market in recent years, including lower vehicle production and soaring prices due to a shortage of semiconductors for vehicles. Furthermore, demand for used cars, which can be delivered relatively quickly and at lower prices, as well as more convenient subscription services, is increasing due to diversifying car ownership and usage customer needs.
However, there is difficult of predicting the future value of used cars with a high level of accuracy due to unclear vehicle quality evaluation criteria and the prevalence of personal judgments when valuing used cars. This has led to high barriers to entry for the used car transaction business and the related subscription business, as well as high fees and limited choices for customers.
Business outline
softbank car subscriptions
CARRO JAPAN provides a used car subscription service marketplace that utilizes Carro's proprietary AI technology to predict the residual value of used cars in order to make highly accurate, data-based future value predictions for used cars and solve problems the industry is facing. CARRO JAPAN's online platform connects participating car leasing companies with users who want to use cars at affordable prices via a subscription model. Carro's AI technology calculates affordable prices for used cars, and participating car leasing companies receive support to provide high quality and affordable used car subscription services that match customer needs. Participating companies benefit from expanded opportunities to provide services outside of their own platforms, and customers can use cars that meet their conditions at affordable prices.
In addition to preparing an interface that makes procedures from the user vehicle selection to the application process smooth, the marketplace plans to offer various new solutions and functions in the future. These include solutions to manage vehicle operation histories and encourage safe driving via driver behavior monitoring and the management of vehicle operation histories. The company is also looking into smartphone-based ancillary services that support the usage and management of company cars, as well as payment consolidation.
Future developments softbank car subscriptions
In addition to expanding services to individual consumers, CARRO JAPAN is considering implementing customer referrals that utilize "carview!", a comprehensive automotive information portal operated by Yahoo Japan Corporation, a SoftBank group company, as well as collaborations with other group companies. In the future, CARRO JAPAN will study the utilization of AI-based vehicle image analysis and jointly expand this marketplace further into the East Asia region to promote SoftBank's "Beyond Japan" initiative.
One of the funds operated by SoftBank Group Corp, the parent of SoftBank, has invested in Trusty Cars, SoftBank said. softbank car subscriptions