Orange Belgium announced the launch of a new unlimited mobile offering for small business.Orange's business customers can stay connected anywhere, anytime and with peace of mind when traveling within the EU or making calls or texting to other EU countries. An additional security service also protects the smartphone of Orange's business customers against potential cyber threats.
The unique combination of mobile data, unlimited international calls and text messages in 39 countries and territories across the EU to meet the demand of business customers on their travels
The Belgian professional market is increasingly mobile: most employees now have a smartphone and business customers spend many hours a day online, on their smartphone. Most of the data consumption is generated by web browsing, streaming and (tele) loading, when these customers consult documents in the cloud or transfer files.
The European Union is important for all business customers: around 80% of international calls made by Orange customers are made from their mobile phones and almost 80% of international calls are made to the EU. 64% of international calls have neighboring countries for destination.
As of March 4, 2019, the Shape Intense and Shape Traveler formulas will be extended with unlimited mobile data and unlimited international voice calls for use in and to the EU.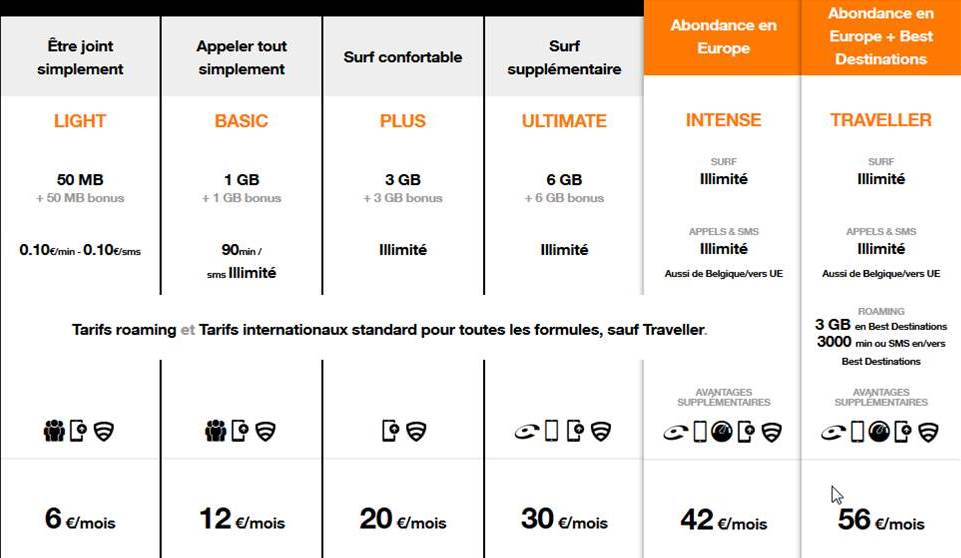 Orange Belgium promises total peace of mind
Werner De Laet, Chief Enterprise Officer of Orange Belgium: "At the beginning of the year, we promised Orange customers that we would not increase our prices. We will offer them even more for the same price; a correct price. At Orange, we want our customers to enjoy their digital experience without any worries. This is precisely our goal with these new professional pricing plans. Each year, data consumption doubles in the professional segment. We saw an increase in the out-of-the-box rate for mobile data within our High Value plans. 
To avoid these additional and unforeseen costs on our customers' bills, we have decided to offer them unlimited connectivity in Belgium and in the EU. Our B2B customers can now stay connected when they travel and no longer have to worry about a higher bill – they surf, call and send text messages to all their international customers, even on the road. Given that existing commercial customers will automatically benefit from these enhanced offerings, we are proving our position as a bold challenger on the market! "
The smartphone of Orange customers is protected against cyber threats and cyberattacks
Mobile devices are becoming more common, but companies often provide only a PC security system for their employees. At a time when more and more tasks are performed outside the trusted security perimeter, it is possible to take many more steps to secure mobile devices.