Yet when she returned to the UK, she discovered that she had been billed for £2,751.43 on one phone, and £663.41 on a second!
Rahime, 46, of Leicester, visits Kosovo several times a year and claims she has been receiving the 'Welcome to Slovenia' messages  for at least four years, Moneysavingexpert report.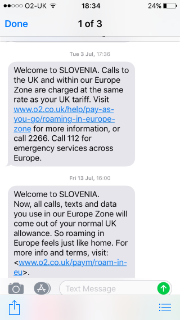 She received the texts while in Prishtina, which is in the middle of Kosovo and over 500 miles away from Slovenia.
She says that after receiving the same texts on previous visits to Kosovo, she contacted O2 to tell it she wasn't in Slovenia and was assured that she still wouldn't be charged – although O2 denies this.
She has now discovered she was charged for previous visits, but because her trip includes going to Albania, where she knows roaming charges apply, she says she didn't realise she'd been charged for roaming in Kosovo too, as her previous bills were much smaller.
Rahime received the standard welcome text for Slovenia, which is a member of the European Union – meaning UK visitors can use their usual mobile allowances there at no extra cost.
However as Kosovo is not in the EU, O2 charges £2 per minute to make and receive calls and £7.20 per MB of data used.
O2 says that as Kosovo borders several other countries, visitors may pick up networks from neighbouring countries – which could lead to other customers facing similar errors. It says that the only way to avoid this is for customers to set their handset to a manual network selection, and then select the local network.
An O2 spokesperson said: "We've apologised to Ms Sulja for any confusion and credited her account. Kosovo is not in the EU and roaming charges apply.
"We're reviewing the text alert process for customers visiting the region."