Nommi is an LTE hotspot with virtual SIM technology and dual wifi for seamless global internet access
When travelling abroad, two crucial things that geeks need the most is internet connectivity and sufficient power on their smartphone. Nommi has both. Portable MiFi that also doubles up as a power bank. On top of that, it can even charge your phone without using any cables at all.
One of the key highlights of Nommi is its ability to keep you connected the moment you land in a different country. Using a virtual SIM, you can stay connected in over 100 countries without expensive roaming charges or having to go through the hassle of finding a local SIM.
Similar to Flexiroam, you'll need to purchase a data pack which ranges from US$4 per day for 500MB to US$35/month for 5GB of data. The daily packs are much cheaper than the usual data roaming rates but if you prefer to save more, you can always pop-in a local SIM onto the device.
 Worldwide Use – Nommi's virtual SIM solution removes the need to buy a local SIM in every country you visit or use expensive data roaming. You will be online in 100+ countries with 500MB fast LTE data for less than $4 per day. Even better, opt for the $35 global data plan and save up to 70% off an average data plan with 5GB of data in 100+ countries. Both options include unlimited connection to millions of wifi networks all over the world.
Wifi Optimization – Nommi's unique dual wifi feature saves your cellular data by seamlessly connecting your device to public wifi networks. It also provides a separate guest wifi network that you can share with family and friends. Lastly, it serves a wifi range extender so you can enjoy wifi in a cozier part of your home.
Smart Charging – Nommi's Power version allows you to charge your phone using its Qi Wireless charger by simply placing your device directly onto the charging pad. No more wall chargers, adaptors or USB ports when you're on the go. It's compatible with all Qi-certified devices so "shoot, my phone battery is dying" syndrome is replaced with a full charge and more online time.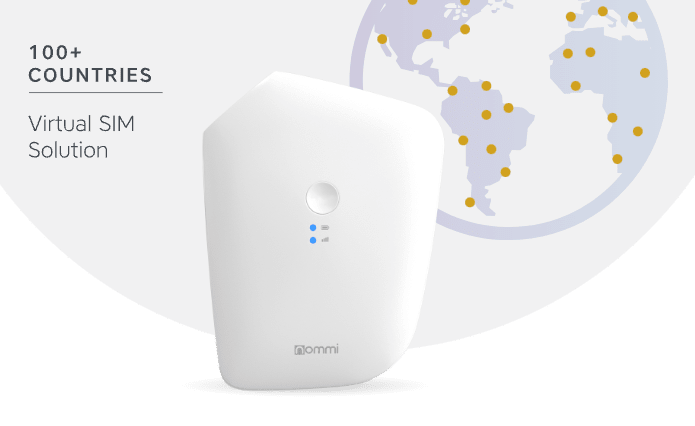 While traveling, Nommi allows you to focus on the 'travel' part. Nommi acts as a wireless hotspot for all your devices in over 100 countries. This means wherever you are traveling, you can stop stressing about buying, activating, or inserting SIM cards. Of course, if you already have your favorite data plan from a local operator, feel free to use your SIM. Simply insert it into the micro slot on the side of Nommi like you would on an iPhone.
Customize your Data – Nommi's user friendly app makes it easy to update and keep track of your usage.
With the Nommi app, you can easily access and manage your device from your smartphone.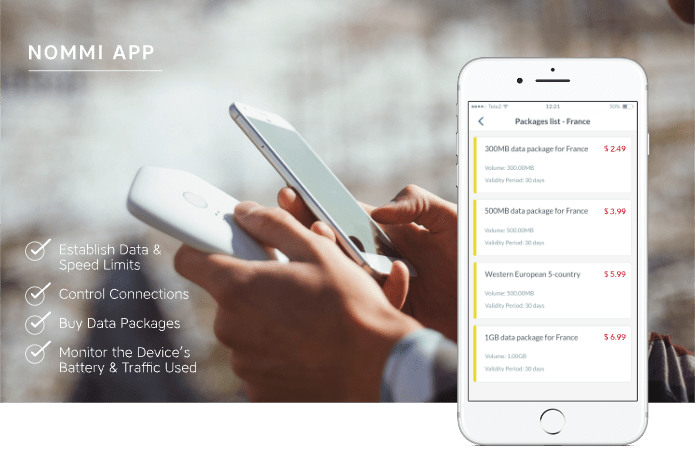 The app will suggest activating our primary offer, which applies worldwide (100+ countries) for just $35 USD per month. It includes 5GB of data + unlimited dual wifi usage + 50 GB VPN encryption for public networks. Let's say you run out of your 5GB cellular data limit, Nommi will warn you via the app, and you'll be able to choose between slowing cellular speed, so it won't end so fast or you can simply buy extra GBs. On another note, if the monthly data plan isn't for you, simply buy data traffic packages which are usually around $4 per day for 500MB of LTE data.
Nommi devices are expected to ship in June 2018.