The research shows that many Flemish families have a problem with surfing because they do not know which applications use much or little data.
No less than half of the families (53% adults; 51% young people) do not know what is possible with 1 gigabyte: how much they can program, how long music or video streams, … One in five (21%) of the adults are concerned that they will not arrive with their available dates in the month. For young people that is even 45%.
About 30 percent of adults do not watch video via mobile data while on the move, because they do want to go through their data bundle too quickly. As a result, by the end of the month, mobile users still have about half of their bundle still available, on average. Half of the consumers are not sure how much music, video or social media can fit in a gigabyte.
"Of course, it is not intended that customers restrain themselves and we want everyone to be able to use their mobile bundle completely and without worry. This is also possible without taking an unlimited product. We bet on this in various ways: with WIGO you simply cannot go beyond bundle and all family members can surf with confidence. We also added Free G for various products, whereby consumption of certain apps, including Yelo TV, is not included in your data pot. This way you can watch television carefree on the road, and you keep your data for other uses. In addition, through My Telenet and the Telenet Mobile App we provide various institutions that customers can personalize and with which they can monitor their consumption and that of their family members and limit them if desired.Kristof Vanhuffel, responsible for the mobile products at Telenet.
63% have activated an alert
The research shows that 18% of parents at least once a week check the amount of mobile data used by the children. Just over half (52%) say they will never do that. About half of the young people (47%) say that they themselves monitor their mobile data usage.
63% of adults say they have activated a warning to monitor their consumption. 20% also do this for the partner and 9% for the children. 5% of the respondents say they do not know that such a warning exists.
What consumes a lot and what doesn't?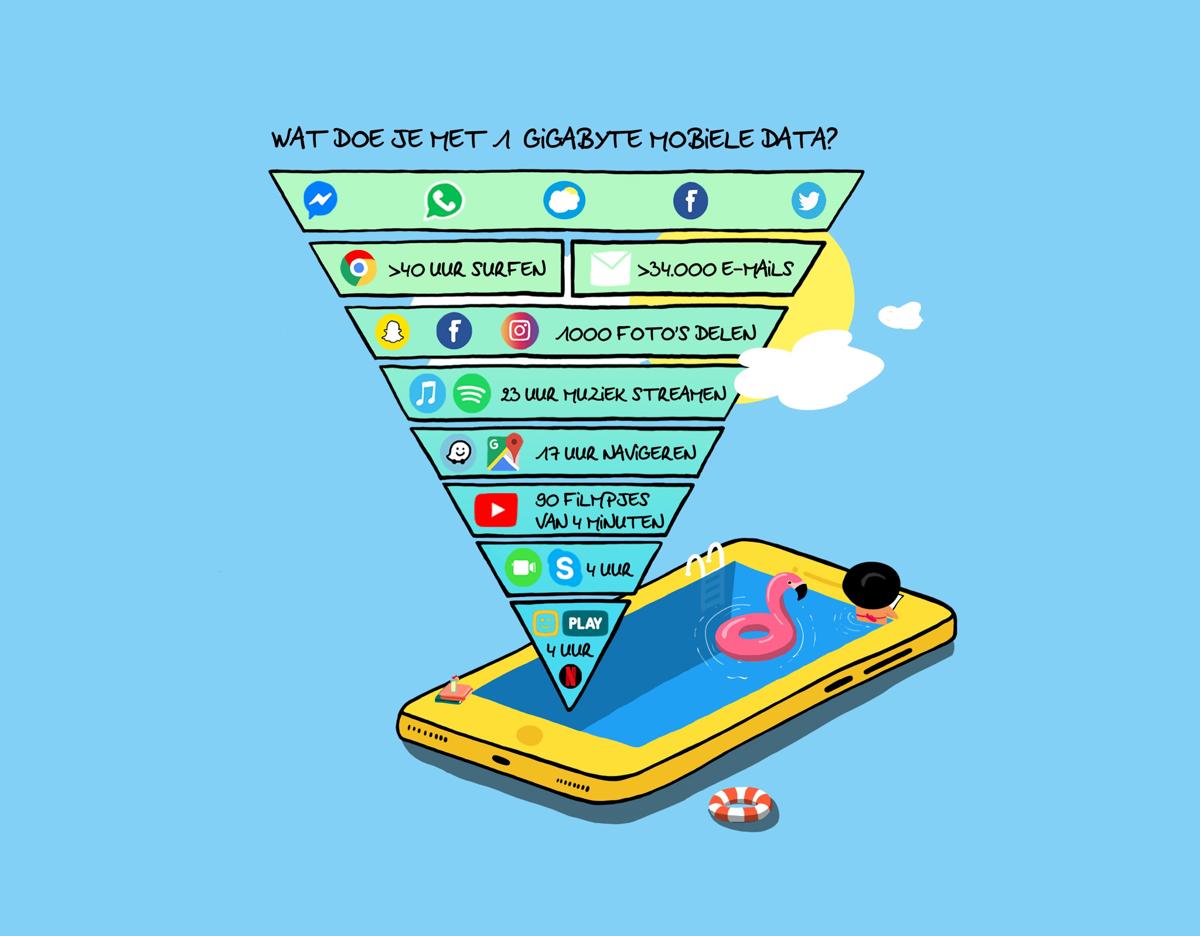 What is possible with 1 gigabyte depends on the device, whether surfing is via 3 or 4G and the quality of the photos or videos that the customer is viewing. Low-resolution images consume less than the highest possible quality. Some examples to get a better picture of what is used a lot and what is not:
Virtually unlimited chat via Messenger & WhatsApp, scrolling on Facebook and Twitter and checking the weather forecast

More than 40 hours of surfing

Send more than 34,000 emails

Share 1,000 photos on Instagram and Facebook

23 hours of music or podcast streaming

17 hours of navigation

Watch 6 hours of YouTube, or 90 clips of 4 minutes

4 hours facetime or skype

Stream Netflix or Play (More) for 4 hours