If you aren't already using klook
, then you need to. More about Klook travel app below. klook review
Klook has only been on the scene since 2014 but – with almost $300 million in so far – it has become the most heavily funded startup ever in tours and activities. No matter if you are going to Malaysia, South Korea, Singapore, Thailand,Europe or Australia, Klook got it all!
Klook offers attractive rates on over 35,000 attractions, tours, activities, food, wellness, local transportation. Check it out…
With Klook, people can eliminate waiting in long lines, more easily book experiences without the hassle of frustrating currency exchanges and overall minimize complication to their travel plans since Klook can be a one-stop platform for their itinerary. Klook works directly with attraction managers and owners to cut out the middleman so that you can book food tours, walking tours, attraction entry tickets, transportation and so on all in one place.
Klook platform offers travelers a wide variety of experiences to choose from and a seamless process of exploring, purchasing, and redeeming.
These experiences range from skip-the-line attraction tickets to a night safari in Singapore to food tours in Italy to hot-air balloon flights in Dubai.
How to use Klook

klook review
For now most of the deals are found in Asia, though there are increasingly more options for Australia, Europe and the US. You can search for travel experiences by destination, or simply explore the multitude of options by filtering through the various categories. You can use klook
via desktop or via their dedicated mobile app (available for Android and iOS).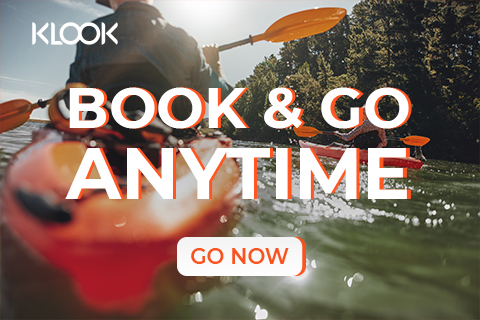 When you see the "Instant Confirmation" lightning bolt next to the activity name, it means that you will receive your booking voucher via e-mail or the Klook app within 5 minutes when you complete the payment. Most entry tickets booked through Klook are confirmed immediately, and often you use the QR or bar code provided to enter the attraction directly so that you can skip-the-queue. Almost all of the tour experiences are confirmed within 24 hours, and if your selected date is not available the Klook team will try to schedule you on another date or give you a refund. klook travel
Klook encourages people who have completed the travel experience to leave a review and offers bonus credits if you add photos. You can then use these credits towards your next travel booking on Klook.
Payment options include either Visa, Mastercard, PayPal, Apple Pay, Google Pay or Alipay.
Klook customer service
While you are travelling you can use the Klook app to track all of your bookings and to see your confirmation details.  The Klook app is very easy to use and keep track of your trip bookings, and it also provides you with reminders for each activity.
You can also use the Klook app to contact customer service on the go, confirm information, ask questions and ask for support if something is not working they way you expected.  They usually respond quickly and are very helpful.
Klook does not have a contact phone number prior to making a booking, the easiest options to contact them are either by email to support@klook.com or their online chat function which is easily accessible via the Klook App – go to 'Account', 'Help Center', and on the page is a popup to 'Ask Klook', which then has a range of options.
You will see the help number in the check out page once you are ready to complete your order.  Also, after you have completed your bookings you will have a Klook contact number provided in your booking confirmation emails.
Klook Discount Code

klook travel
Klook also offers some great discount code deals from time to time which will be emailed to you if you have set up an account with them.
Another really popular option is the Klook first time promo code, which enables first time users of Klook to get a discount on their first booking.  Our Klook promo code is SWEETSAVING  to get additional 15% discount off your order.  You add the code just prior to final payment in your Klook Shopping Cart.
klook
 is a fantastic travel booking platform that you should use to find great deals abroad and even at home. Make sure that you read the reviews and also leave reviews and photos to accrue credits towards your next booking!
Like this? Comment it. Share it.
5 stars: exceptional; 4 stars: good; 3 stars: acceptable, 2 stars: bad; 1 star: avoid