Google Cloud Text-to-Speech is intended to help companies develop better conversational interfaces for the services they supply. It works by transforming written text into artificial speech that's spoken in realistic human voices.
With the service, Google is targeting three main markets: voice response systems for call centers; "internet of things" products such as car infotainment systems, TVs and robots; and applications such as podcasts and audiobooks, which convert text into speech.
In a blog post, Google product manager Dan Aharon said Cloud Text-to-Speech is getting 12 new languages or variants, including Czech, English (India), Filipino, Finnish, Greek, Hindi, Hungarian, Indonesian, Mandarin Chinese (China), Modern Standard Arabic and Vietnamese. The update means Cloud Text-to-Speech is now available in a total of 33 languages and variants.
The service is also getting a whopping 76 new voices, bringing the total available to 187. Of these, 38 are powered by Google's WaveNet service, which is a deep neural network for generating raw audio that's said to generate more realistic-sounding voices. So there are now 95 WaveNet voices in total, with at least one for each of the 33 supported languages and variants.
Google says its WaveNet voices are important because people who call contact centers or use verbal commands to speak to devices expect a voice that sounds both natural and human. WaveNet does this better than any other technology available, closing the "perceived quality gap" between speech synthesis and human speech in U.S. English by 70% per Mean Opinion Score, Aharon said.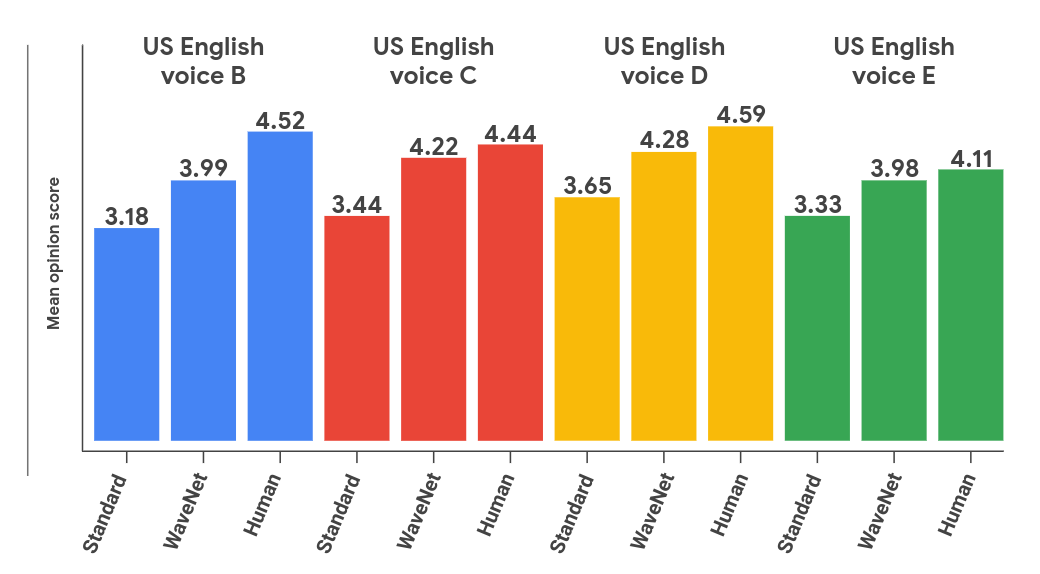 "The practical impact is that for most listeners, a WaveNet voice makes human/computer interaction a smooth and familiar experience," Aharon said. "With these updates, Cloud Text-to-Speech developers can now reach millions more people across numerous countries with their applications — with many more languages to come."
Constellation Research Inc. analyst Holger Mueller said the updates to Cloud Text-to-Speech were significant, even though at first glance it just appears to be "more languages and voices." Most important, it shows that Google is putting its machine learning architecture to good use, he said.