Google Wallet has been expanding rapidly since its launch in July, initially arriving in 39 countries as an update to the Google Pay app before expanding to six additional countries the following month. Now, Google is bringing the revamped app to even more countries and smartwatches.
Google Wallet is seeing one of its first major expansions since its launch as it brings mobile payments to Fitbit Sense 2 and Versa 4 as well as expanding into 12 new countries. Rolling out already started, the latest Fitbit smartwatches are adding support for Google Wallet. The Fitbit Sense 2 and Fitbit Versa 4 are the only products eligible to use the new app, with Charge 5, Sense, and Versa 3 still left with Fitbit Pay only.
The search giant announced in a blog post that Google Wallet is now available in 57 countries after adding an additional 12 countries to the list.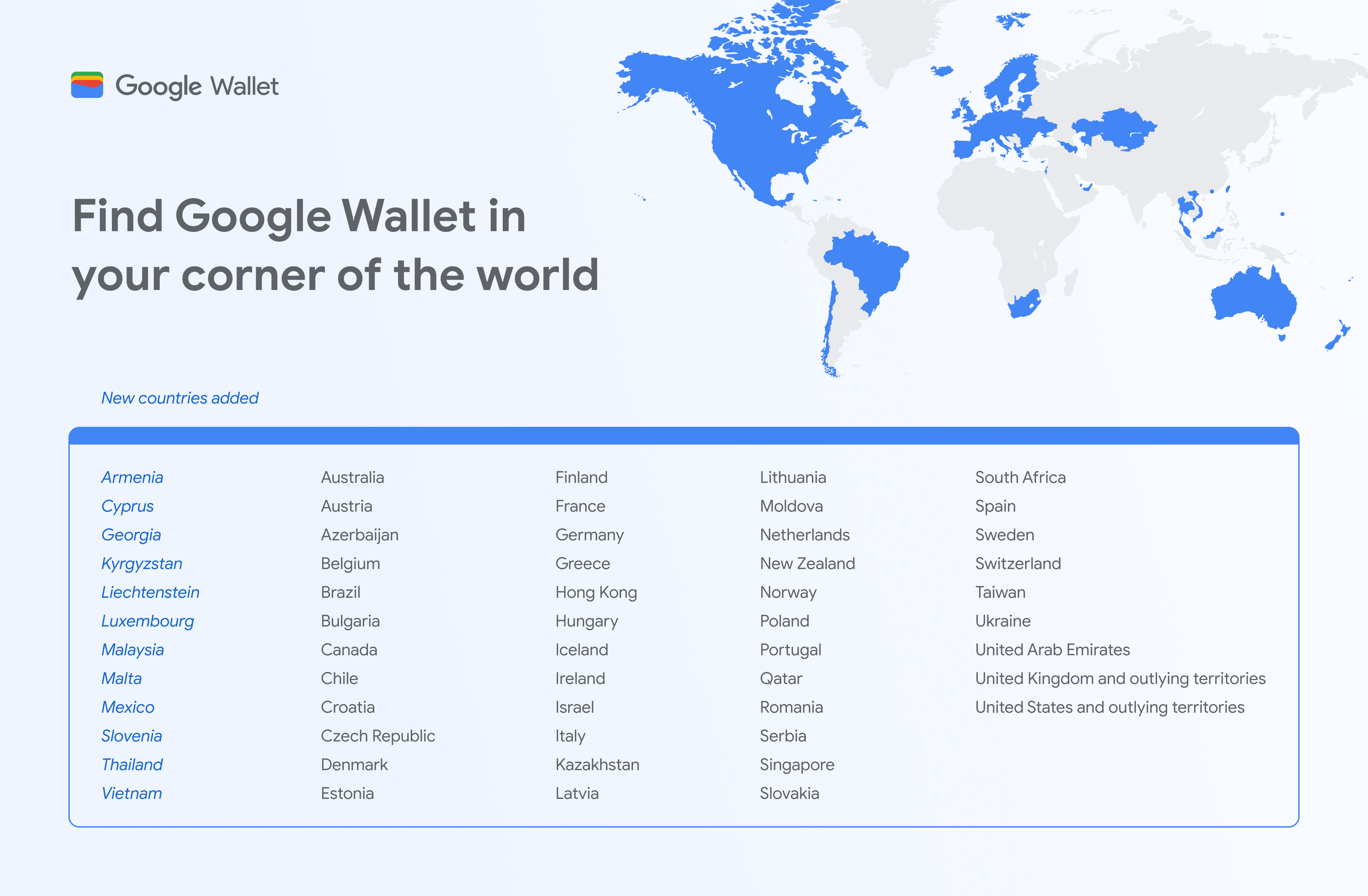 The new countries to support the Wallet app include:
Users in the listed countries will be able to update the Google Pay app to receive the new Google Wallet experience, which can be used to store payment cards, transit tickets, boarding passes, concert tickets, and more.
These are 4 different ways you can use Google Wallet around the world
Make quick, secure payments from your watch: Last month we added Wallet to the Google Pixel Watch so you can easily make contactless payments. And starting today, anyone with a Fitbit Sense 2 or Versa 4 can pay with just a tap of their wrist.
Tap and pay on public transit: If you're one of the millions of people who commute by public transportation, you can use Wallet to tap and pay in hundreds of cities around the world. In Japan, we recently added support for PASMO on mobile devices and launched Suica on the Google Pixel Watch.
Save mobile tickets for events and shows: We're partnering with many companies — including Ticketmaster, Thaiticketmajor in Thailand, Cinemaxx in Germany and Ticketek, Humanitix and Oztix in Australia — so Android users can add mobile event tickets to their Wallet. My daughters are big Taylor Swift fans, so I'll be trying out this feature for her tour next year.
Access boarding passes: There's so much to keep track of before a flight. So we partner with airlines like AirAsia, Air France, China Air, Ryanair and United Airlines to help travelers easily save and access their mobile boarding passes in Wallet. You can even save multiple boarding passes if you're traveling with family or friends. Pro tip: To quickly add your boarding pass, just take a screenshot of it on your Pixel phone and tap "Add to Google Wallet."
These are just some ways you can use Google Wallet throughout your day. As Wallet expands to more places around the world, look out for even more features to easily access what you need.