Among the 4.422 billion global netizens, Asia ranked first, with a total of 2.2 billion, accounting for 49.8%, followed by Europe with 719 million, accounting for 16.3%. 525 million, accounting for 11.9%, while Latin American netizens 447 million (10.1%), including 366 million (7.4%) of North American netizens including the United States, 3.9% in the Middle East, and 0.6% in Oceania.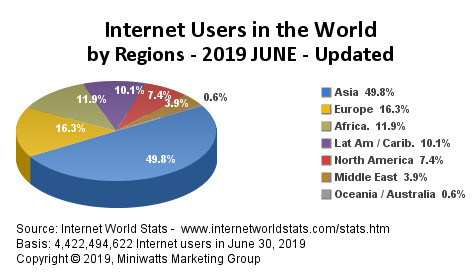 Previous reports by We Are Social and Hootsuite also showed that global Internet users spend an average of one-quarter of their time each day, with an Internet time of 6 hours and 42 minutes, compared to 6 hours and 49 minutes last year.
If you look closely at this data, it is not difficult to find that netizens in developing and middle-income countries spend the most time on the Internet. For example, the average Internet access time of Philippine netizens is 10 hours and 2 minutes. However, Japanese netizens spend an average of only 3 hours a day. In 45 minutes, the average American online time is 6 hours and 31 minutes, while China is 5 hours and 52 minutes, and the UK is 5 hours and 46 minutes.
From the distribution of Internet users' online time, social media occupies a lot of time for people to go online. The average global time is 2 hours and 16 minutes, while the lowest social media usage rate is in Japan, and people spend an average of 36 minutes.
Experts say that the average global Internet time of nearly 7 hours a day may sound worrying, but this does not mean large-scale Internet addiction, because more and more people solve their jobs and other things through the Internet. Such as reservation systems, travel information, commuting to work, and communication between employees and employers.

Internet World Stats is an International website that features up to date World Internet Users, Population Statistics, Social Media Stats and Internet Market Research Data, for over 243 individual countries and world regions.