French operator Free Mobile has started offering new customers the choice to opt for an
eSIM
in the sign-up process. More about Free mobile eSIM below.
There is no price difference between eSIMs and standard SIMs, with a EUR 10 one-off charge applying across all plans for both options, as detailed in the operator's December tariff brochure. Rivals Orange, SFR and Bouygues Telecom have all already introduced eSIM support for compatible smartphones.
Free remains fairly discreet about the compatibility of its mobile network with eSIM technology. A help page has in any case been put online to learn about the activation. The pricing does not reserve any surprises with a standard price of 10 € with the order (as for the SIM card).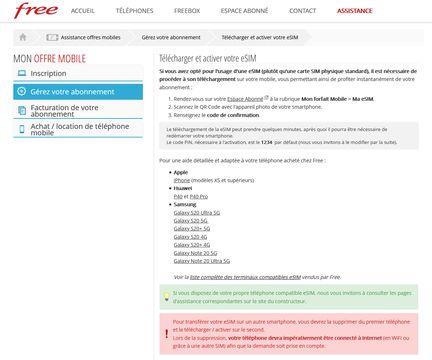 An assumed delay of the eSIM

free mobile esim
When the Freebox Pop was launched in July, Xavier Niel raised the issue of eSIM. Asked about 01TV , the founder of Free and historic leader of the Iliad group hoped for an eSIM launch before the end of the summer.
However, Xavier Niel had confided that he was not originally a big fan of the eSIM for Free. " It was a business choice on our part not to deploy. […] What worried us was being dependent on a terminal vendor and that our consumer himself would become dependent on a terminal vendor. terminal. […] At one point, this terminal vendor tells us give me a percentage of your turnover, and in the end the price goes up. "
Xavier Niel had however stressed that the contracts of the equipment manufacturers and financial conditions have changed. Obviously, there is no longer an obstacle for the deployment of eSIM by Free.
For detailed help tailored to your phone purchased from Free:
Apple
iPhone (XS and above models)
Huawei
P40 and P40 Pro
Samsung
Galaxy S20 Ultra 5G
Galaxy S20 5G Galaxy S20 + 5G, Galaxy S20 4G, Galaxy S20 + 4G Galaxy Note 20, 5G Galaxy Note 20 Ultra 5G
See the complete list of eSIM compatible terminals sold by Free.