On your smartphone, there are a ton of GPS navigation apps accessible for download. Choosing which ones are worth storing and which ones aren't might be challenging. Here, in no particular order, we list the advantages and disadvantages of 9 useful apps that will help you get where you need to go. free gps apps
While some include integrated features like location sharing on social media or routes for backcountry trekking, some are merely for navigation or selecting the optimal route based on traffic. All of them offer free basic versions, but many of them charge a monthly or yearly price for extra features.
1. Skipr – Route Planner
free gps apps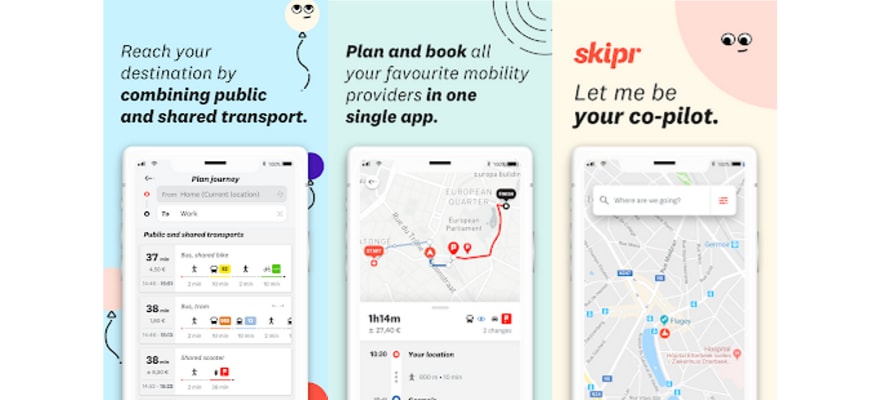 Why settle for the car? From now on, a host of means of urban transport are at your disposal. The metro and TEC, De Lijn and STIB buses, of course, but also the train, taxi and shared bikes and cars. The Skipr app allows you to plan your route, regardless of your preferred means of transport, because it integrates and informs all timetables and traffic information in real time.
Not only do you prepare your trip, but you stay in the same app to book your electric scooter or your Uber. A real aggregator of the different modes of urban transport, particularly practical for new mobility enthusiasts.
This app is one of the few GPS apps to offer a Business option. Thus, it is possible to receive all the expenses related to the mobility of your employees on a single invoice. You manage your transport budget more easily, a good way to save time. Another advantage for companies and entrepreneurs? You receive VAT statements from the various service providers via the app when available. By the way, Skipr is a Belgian app. It is available everywhere in Belgium, in French, Dutch and English.
---
2. Moovit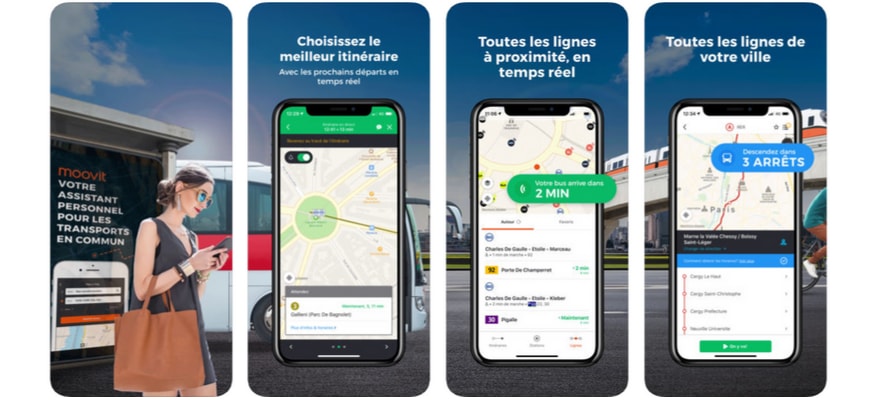 The designers of Moovit boast of having launched the most widely used MaaS (Mobility as a Service) application worldwide. The principle is the same as Skipr: this intuitive app combines all the transport services available in your city in a single map and also covers the whole of Belgium. You consult the timetables in real time, but also the traffic information.
The app even sends you a notification when you've arrived at your bus or metro stop. An option that can also be useful is the possibility of pinning your favorite routes as a widget on the home screen of your smartphone.
The downsides? The offline mode offered by the application is disappointing. This is only a PDF plan that you can download. Also, the app does not support auto, taxi or shared car rides.
---
3. Maps.me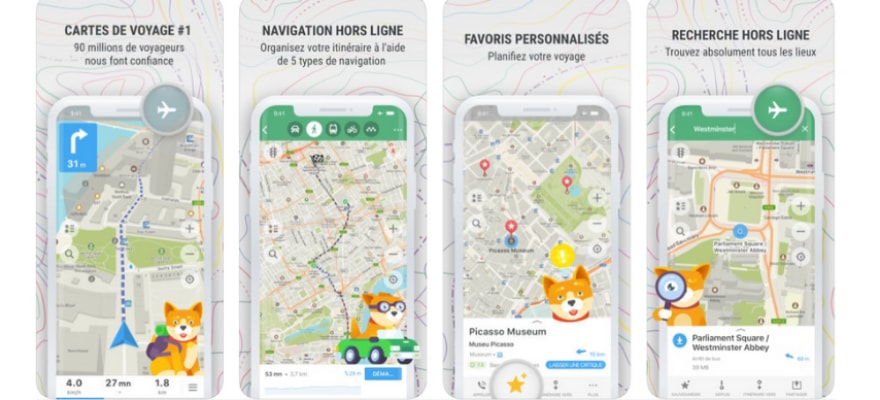 Most navigation apps use a 3G or 4G connection to download the map as you go. Not always practical if you have a limited mobile plan or if you don't want to quickly drain your mobile phone battery. That's why we present to you a connectionless application, a great asset for some users. Preparing your route by car, on foot or by bike anywhere in the world is fast and reliable with Maps.me .
This app will not only be useful to you at work, since you can even add points of interest and hiking trails and thus find the best routes for all occasions. It even allows you to make your hotel reservation, because the app is linked to Booking.com. The app uses geographical data from Openstreetmap.org, regularly updated by users.
---
4. Here WeGo
free gps apps
HereWeGo is another free navigation app. With it, you can easily prepare your routes by car or public transport, but you can also call a taxi. The main advantage of this application is undoubtedly the fully offline satellite navigation. So you don't need to spend data to go to your appointments and you can consult a whole bunch of maps offline.
Three different views are available: the Satellite view, the Transport function, where data related to the metro and public transport are displayed and, finally, the Traffic view, which shows the traffic in real time when you are connected. on the Internet. free gps apps
Moreover, Here WeGo offers the automatic recalculation of your route if the traffic is too dense on your route, an essential feature that will save you precious minutes on your way to an appointment or to the office.
---
5. TomTom GO Navigation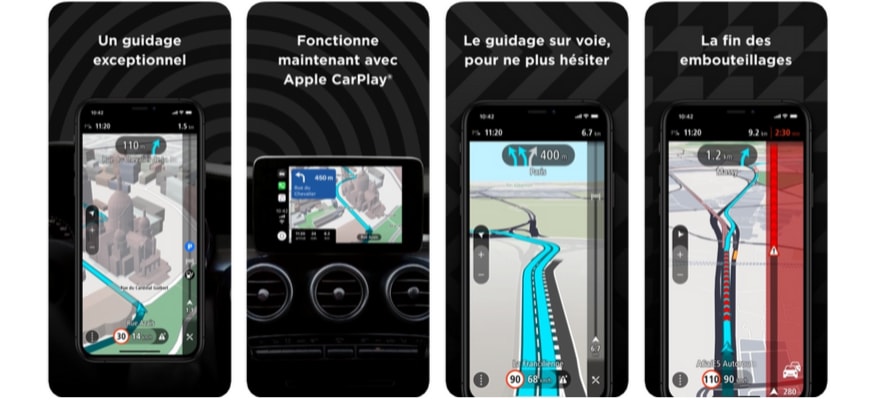 For more demanding users who travel by car, paid GPS generally offer a superior interface and increased accuracy. This is the case with the TomTom navigation app. Not only does it guide you on the best route, but it shows you the start and end of slowdown zones. Maps are available offline and many points of interest are included in the app. With the Tap & Go function, a single click separates you from your favorite destination. And for iOS users, TomTom GO is Apple CarPlay compatible.
On the other hand, you do not have the possibility to download the map of the countries individually, you must download all of Europe. You can sail 75 km per month for free. Beyond this distance, you will need to subscribe to the monthly subscription to continue to enjoy navigation. This application will not disappoint you because after all the best GPS devices were and still are made by TomTom.
---
6.Coyote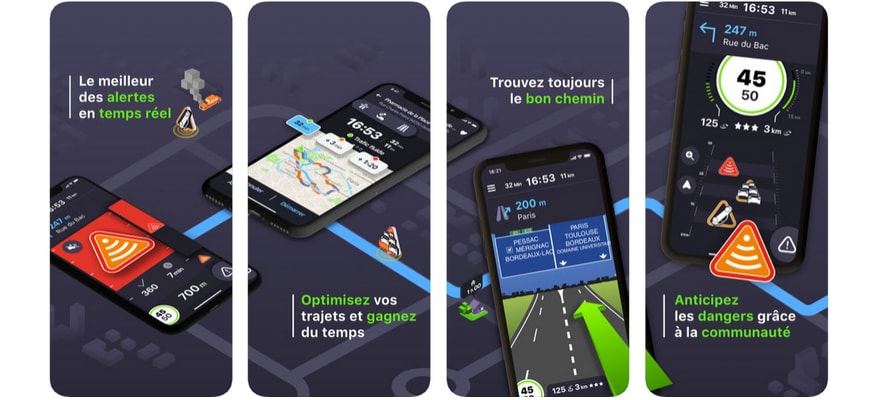 Since its arrival on the mobile app market, the Coyote app has represented a serious competitor to other community navigation services. First known as an app that (legally) reported speed cameras on the route of motorists, Coyote has since launched its own GPS. The navigation system tells you about potential dangers on the road, disruptions, speed limits.
In short, everything for you to drive safely. The community of subscribers is very involved: they update and confirm the situation on the road in real time. This is one of the great advantages for those who are often on the road and who actually forget that this application has a (minimal) cost. If your journeys are often varied, Coyote will prove to be more efficient than, for example, the popular free app Waze.
---
7.Waze
free gps apps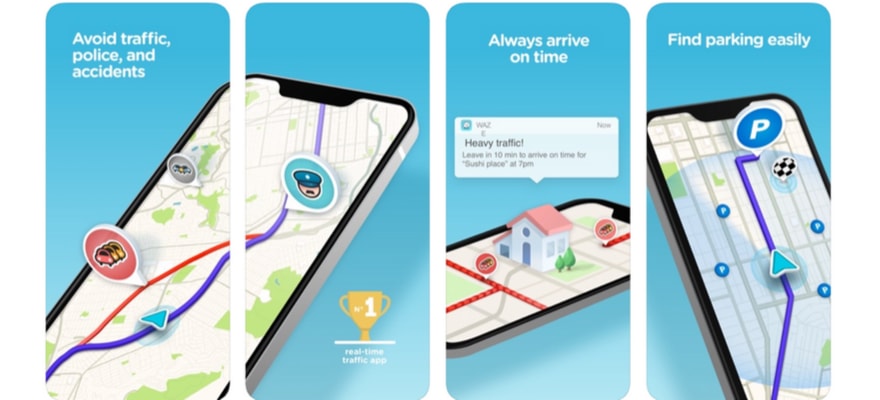 Waze is one of  the best free GPS released in recent years. This community application allows you to prepare the optimal route for all your car trips, since it tells you in real time about traffic jams, traffic jams, dangers, police checks and can recalculate your route in real time.
In addition, Waze is compatible with Android Car. Compared to its direct competitor, Coyote, the Waze app has the advantage of being free and very easy to use. However, it has the disadvantage of being less precise in its alerts. In short, for daily and routine journeys, it is more than enough.
---
8. Google Maps
The granddaddy of GPS navigation options for almost any type of transportation.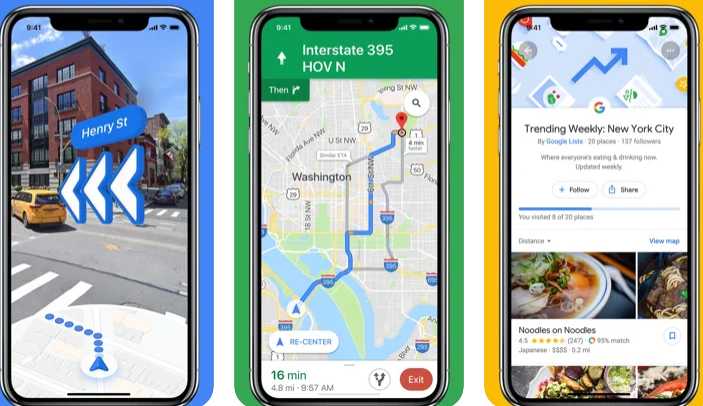 Navigate your world faster and easier with Google Maps. Over 220 countries and territories mapped and hundreds of millions of businesses and places on the map. Get real-time GPS navigation, traffic, and transit info, and explore local neighborhoods by knowing where to eat, drink and go – no matter what part of the world you're in.
Get there faster with real-time updates
• Beat traffic with real-time ETAs and traffic conditions
PROS:
Works for many forms of transportation
Tells you about traffic issues
Gives you departure and arrival times for driving.
Real-time ETAs based on traffic conditions
Offers automatic rerouting due to traffic, accidents or other road conditions.
Available offline
CONS:
No social media sharing function
Some reviews complain about next-turn directions that are missing or incorrect, with people missing their exits.
GPS can drain your phone battery
If you make a wrong turn, it will often redirect you back to the original route, even if a new route would be shorter.
User reviews from 2021 mention issues with app updates like the removal of features like upcoming turns and automatically changing the route due to accidents.
Google Maps app is free for both iOS and Android.
---
9. APPLE MAPS
The most direct rival of Google Maps, due to it coming preloaded on iPhones and other Apple products. When the iPhone first launched, it was preloaded with Google Maps. In 2012, Apple replaced it with its own mapping application known as Apple Maps. It launched in beta in the iOS 6 beta, and was released to the public that fall. Over the years, Apple has continued to adds features to Apple Maps. iOS 11 brought lane guidance and a speed limit widget on the navigation, and indoor location mapping. Apple has also added proactive location suggestions (time to get home when you are leaving work, etc), integration with public transit, Yelp integration, and integration with ride sharing services like Lyft and Uber.
PROS:
Provides features like turn-by-turn directions and voice navigation.
Tells you the fastest way to get to your predicted destinations based on traffic, location, time of day, and your schedule.
3D map view for directions includes buildings.
Gives you guidance on what lane you should be in based on traffic and where you're going.
Offers a Flyover tool to give you a virtual tour of your destination.
Weather and air quality for your destination are shown on the map.
CONS:
Some users say the exit directions and information about businesses are inaccurate.
Points of interest on the maps can be lacking compared to other apps.
No option for offline use of maps.
Look Around street view function doesn't have images for everywhere in the US and is only available in 5 countries.