The overall eSIM market was valued at USD 179.6 Million in 2017 and is estimated to reach USD 978.3 Million by 2023, at a CAGR of 31.0% between 2018 and 2023 according to the new market research report "eSIM Market by Application" .
In terms of volume, the overall eSIM market is estimated to register a shipment of 287.7 million units in 2016 and is likely to witness a shipment of 1,168.8 million units by 2023, at a CAGR of 32.4% between 2018 and 2023.
The M2M application is estimated to lead the eSIM market in 2018. The increasing penetration of the internet, coupled with the rising adoption of IoT across verticals such as automotive, consumer electronics, energy & utilities, manufacturing, retail, and transportation & logistics, is primarily driving eSIM adoption. 
In addition, favorable regulatory frameworks are facilitating the growth of M2M across verticals. ESIM is now a mainstream technology in the M2M application. It plays a pivotal role in this application owing to its remote programmability and high security.
The rapidly growing M2M market across verticals is expected to contribute to the dominance of M2M application during the forecast period. However, the lack of standardization in connectivity protocols is expected to hinder the eSIM market growth.
Based on vertical, the telecommunications vertical is anticipated to witness the fastest growth during the forecast period. The telecommunications vertical remains one of the major forces shaping disruption, innovation, and growth across various technology industries. ESIM is anticipated to be a game changer in telecommunications applications. It aids in intelligent switching of operator profiles without any hassle to the end user, with no geographical border constraints. The adoption of eSIMs by telecommunications stakeholders is likely to position them as leading players in connectivity and IoT markets in the coming years.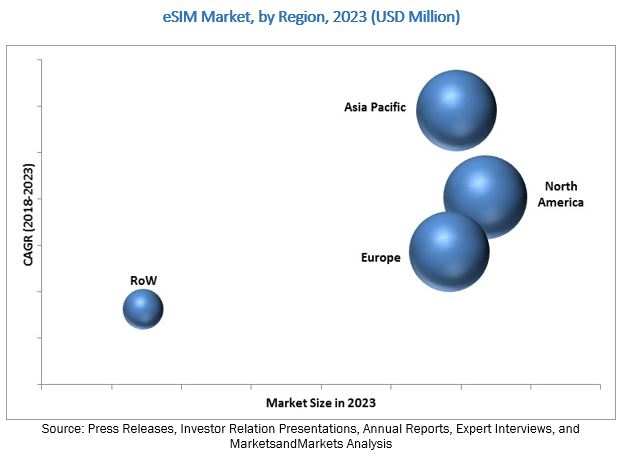 Europe is estimated to hold the largest share of the eSIM market in 2018, followed by North America and Asia Pacific. However, by 2023, North America is likely to hold the largest market share globally. The increasing focus on the linking and digitization of future products and services is boosting the growth of the semiconductor industry. The semiconductor industry offers key technology solutions such as security, energy efficiency, mobility, and smart grid, across verticals.
Furthermore, semiconductors are viewed as building blocks for enhanced environmental monitoring, energy efficiency, and better security. It is one of the most R&D-intensive industries in Europe. The demand for eSIMs is likely to gain momentum in the near future owing to the rapid adoption of advanced technologies, changing consumer demographics, as well as shifting consumer preferences.
ESIM cards allow remote provisioning of SIM profiles through enabling automatic interoperability between connectivity platforms and multiple SIM operator profiles. However, the operational flexibility achieved by an embedded SIM would be a futile effort if security is compromised. The eSIM collects and stores the credentials of mobile network operators (MNOs) in the inbuilt software of the device, which is prone to various security hacks. In addition, it operates through multiple MNOs and physical platforms, thereby exposing it to the risks of the virtual environment.
Major players operating in the eSIM market include Deutsche Telekom AG (Germany), Gemalto NV (Netherlands), Giesecke & Devrient GmbH (Germany), Infineon Technologies AG (Germany), NTT DOCOMO, INC. (Japan), NXP Semiconductors N.V. (Netherlands), Sierra Wireless, Inc. (Canada), Singapore Telecommunications Limited (Singapore), STMicroelectronics (Switzerland), and Telefónica, S.A. (Spain). Key market players focus on acquisitions, collaborations, joint ventures, partnerships, and product launches and developments to enhance their product offerings and expand their businesses.