The global digital payment market size is expected to reach USD 132.5 billion by 2025, registering a CAGR of 17.6% from 2019 to 2025, according to a new report by Grand View Research, Inc.
The ongoing technology and digital revolution led by the growing penetration of smartphones is driving the market. Furthermore, the entry of numerous non-banking institutions such as Amazon.com, Inc. and Alibaba, which are into offering payment solutions and services, is further expected to propel digital payment services market growth over the forecast period.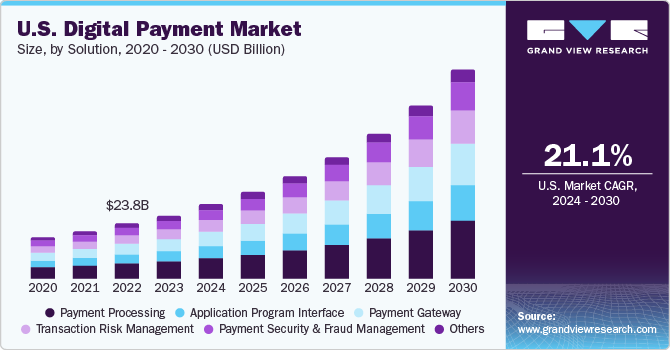 Various countries across the globe are making regressive changes in their regulatory framework favoring digital economy. This has led to an exponential growth of electronic monetary transactions. Various trends, such as the Internet of Things (IoT), cloud computing, tokenization, biometrics, and ubiquitous connectivity, are expected to shape the way consumers transact in future.
The advent of next-generation systems such as e-wallets and payment banks is expected to fuel digital payment systems market growth. In addition, various non-banking institutions are focusing on leveraging and innovating technology to simplify user experience and provide them with better financial and banking services. Technological advancements are allowing monetary transaction solution providers to offer personalized experiences that are more customer-centric.
The market is expected to witness significant growth owing to the growth of the e-commerce companies across the globe. Instead of selecting conventional offline retail, customers nowadays are more inclined towards online shopping. This, in turn, is expected to propel the market over the forecast period.
The growth of the North American regional market can be attributed to the existence of a large number of solution providers in the region as well as expansion of the mobile commerce industry. Proliferation of digitalization, coupled with supportive government initiatives in developing countries, is propelling the Asia Pacific market.
The development of safe and secure payment gateways is expected to drive market growth. The market will also be driven by innovation in payment technology using blockchain, the Internet of Things (IoT), Artificial Intelligence (AI), and real-time payments. Innovations in security technologies such as tokenization of card details for eliminating fraud is expected to create growth opportunities in the coming years.
Digital payment solutions are considered as a safer and more reliable mode of payment than traditional methods as they eliminate the risk of theft and mitigate losses. The digital payment solutions market is expected to witness significant growth over the forecast period as digital payment solutions offer numerous benefits over traditional payment methods, such as ease of accessibility and convenience to users. The demand for these solutions is expected to grow over the forecast period owing to increasing focus on omni-channel payment mode and increase in the number of customer-centric payment applications.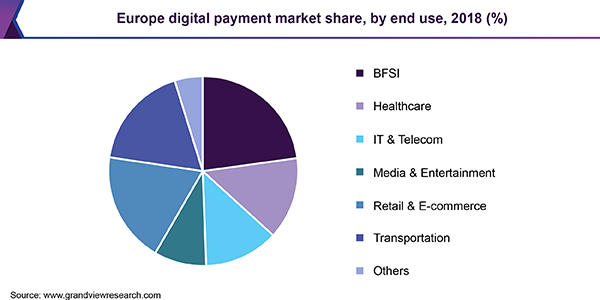 Digital payment features agile, real-time, and personalized transaction services. It involves the usage of blockchain, mobile wallets, and Application Program Interface (API) technologies. These advanced payment technologies help enhance customer experience. However, increase in cybercrimes and financial frauds is expected to adversely affect the digital payment solutions market over the forecast period.
Digital Payment Market Share Insights
Major vendors in the market include Total System Services, Inc.; Wirecard AG; Novetti Group Limited; PayPal Holdings Inc.; ACI Worldwide Inc.; and Adyen N.V. Mergers and acquisitions as well as collaborations are some of the key strategies adopted by these players to gain a competitive edge in the market. Companies are consistently focusing on innovations to personalize and differentiate their solution offerings for potential customers. Companies are investing in research and development activities for updating and innovating products and solutions.