North America is likely to hold the largest share of the growing demand for craft beer until 2032. The variety of independent microbreweries and the production of craft beer in a large volume has become the major reason behind the success of craft beer in the American market.  Although the United States is credited with starting the craft beer craze in the 1980s, Europe is home to numerous fantastic breweries and craft beer pubs. Anyone with a little money and a passion for beer might start a brewery in the early 2000s as homebrewing became more accessible and well-liked. Craft Beer Europe
A community that exists within the world of craft beer that is passionate about beer's style and enjoys drinking it. From 2022 to 2032, the global craft beer market will almost double in size
What is Driving Demand for Craft Beer in Recent Years?
Craft Beer Europe
Small breweries produce craft beer, which is a natural product made with natural ingredients derived from local resources. Due to the presence of natural ingredients, it also has several health benefits. Growing demand in the market is attributed to the growing number of flavors and creative styles in beer.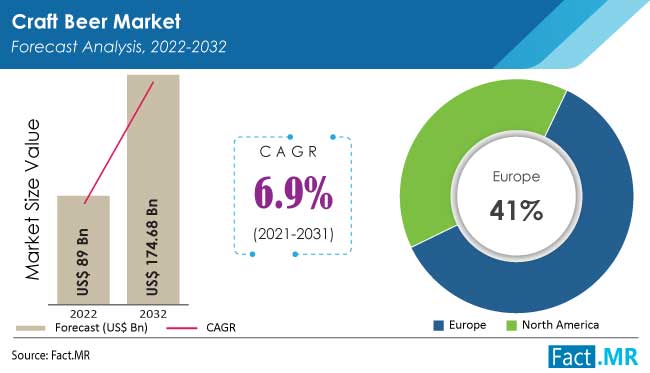 As a consequence of the recent implication of one of the major factors in the development of craft beer, go-green technology was incorporated into the beer manufacturing process to increase market growth and innovate new ways of reducing waste and water usage. The development of craft beers in the last several years has also been largely attributed to the proliferation of canning.
With the increase in the number of restaurants, pubs, and bars in the cities, the demand for craft beer on the market is growing. A proliferating number of social trends among millennials has increased the demand for breweries in the market.
What are the contributing factors to Craft Beer Sales in Europe?
Increased consumption of craft ale have taken over the European market
Europe has been witnessing the growth of craft breweries over the last five years and the increasing growth of the active breweries in the European market can be regarded as the support of craft beer. Premium beers have been a major trend in Europe, thus the demand has also increased dramatically, supporting the market for craft beers in these regions.
Craft beer production has grown significantly in recent years as a result of a significant increase in craft ale consumption and this has led to a positive outlook on the future of craft beer. A revenue share of 41% is expected for the European craft beer industry.
Sweden's breweries increased from 30 to 300 between 2007 and 2017, and other European nations like Spain and Portugal, which weren't recognized for their beer, started creating their own distinctive beers. Although there are good craft breweries and bars everywhere, some of the best beer in Europe can be found in these places.
Ljubljana, Slovenia

Craft Beer Europe
For some world travelers Ljubljana still feels like an insider tip. Despite this, Slovenia has an exciting craft beer scene of stylish pubs that has been evolving for some time.  
Located in the centre of Ljubljana with riviera vistas, Pop's place has around fifty varieties of local craft beer, both draught and bottled to offer. Most of them come from Slovenia, Estonia, Austria and Belgium. The interior of the 'American style' burger bar is hip and laid back. The long, communal tables and friendly atmosphere will encourage you to linger longer. Incidentally, the burgers are locally made beef and prepared in-house.  
Human Fish Brewery, Kratochwill, Pelicon, Rooster, Hopsbrew, Pivovarna Kralj and Bevog are just a few of the names to look out for if you want to taste some of the must-try craft beers from Slovenian microbreweries.
Wrocław, Poland
Not far from the German and Czech borders, Wrocław has always been one of the best cities in Poland for imported pilsners and German beers. It could have remained a pretty unremarkable city for Polish beer if it weren't for Browar Stu Mostów (100 Bridges Brewery) opening in 2012. Stu Mostów is fast becoming Poland's biggest and most popular brewery, but has firmly based its heart and headquarters in Wrocław, a charming city with a fair few bridges. Warsztat Piwowarski is another great Wrocław-based brewery that has followed in Stu Mostów's footsteps.
Within the last 10 years, bars that serve purely local craft beer have popped up everywhere in Wrocław. Some of the best are Kontynuacja (around 25 Polish beers on draft at any one time), Ale Browar, Profesja and 4Hops to name just a few.
Barcelona, Spain
Craft Beer Europe
Spain may be better known for tapas and Rioja wine, but Barcelona also boasts one of the best craft beers in Europe. Steve Huxley, a brewer from Liverpool, brought young people with a passion for brewing together around 20 years ago and created a few amateur brewing projects in the Poble Sec neighbourhood of Barcelona. Sadly, Huxley passed away in 2015, but even he might be astounded by the sheer number of craft beer (or cervesa artesana) bars that have opened in the last couple of years.
Any beer lover would be spoilt for choice in Barcelona, but there are one or two good places to start. Edge Brewing opened in 2013 by two American craft beer aficionados and was rated the best new brewery in the world by RateBeer a year later, so they're doing okay for themselves. Barcelona Beer Company is another good local choice, and they make their beer using the water from Montseny Natural Park a few kilometres away.
BrewDog, the Scottish craft beer with possibly the best marketing in the world, has its own bar in Barcelona, where you can try their specialities or some 'guest beers', which are constantly changing. The pub features 20 craft beers on tap, and about half of those are their own brews and the other half are guests; that's not including the menu of some 40 bottles. What do we recommend? Without a doubt the Punk IPA, which makes up about 50 percent of BrewDog's production and has transcended the specialty world and is practically a standard now.
Must-visit bars include Little Rain Brewing Company, Garage Beer Co., Cerveza Fort, Tibidabo Brewery, Brew Pub Le Sec, Freddo Fox, ABirraDero, BlackLab, LaMesPetita,  Caravelle, Ratpenat Cervesers, FlyBrew, La Textil, Ruta 6, Hoppiness, Cervecita, BierCaB, Condal and Kælderkold (and many more).
Bristol, UK
Although traditionally famous for their cider, no other UK city can compare to Bristol when it comes to craft beer. Over the last 20 years, Bristol has been reborn from the ashes of its industrial heritage to become an enterprising city full of independent businesses, artists and artisanal cafes, and (you guessed it) craft breweries. Plus, the Bristol Craft Beer Festival is one of the biggest festivals of its kind in the country.
Some of the most well-respected (and friendliest) brewers come from Bristol breweries Lost and Grounded and Ashby's Ales. Top bars in Bristol stocking local craft beer include The Cider Box, City Pub Co, LHG Brewpub, The Three Tuns, The Coronation Tap, Small Bar, Left Handed iant Brewing, The Wiper and True,  and The Beer Emporium.
Malmö, Sweden
When Sweden joined the EU in 1995, their laws forbidding beer above 5.6% alcohol to be sold was null and void. Swedish beer lovers could finally enjoy formerly illegal beers from around the world, so the craft beer movement couldn't have been better timed for beer-drinking Swedes. Malmö, in particular, has experienced a surge in craft breweries and bars, possibly because it's only a 40-minute drive from Denmark's capital city Copenhagen, another hotspot for craft beer.
Popular Malmö breweries such as the Malmö Brewing Co. and South Plains Brewing Company have an American feel with a clean, Scandinavian twist (read: hipster). Their beersand many others can be found at the Malmö Brewing Co. Taproom, Psychopipes, Nerdbrewing, Malmo Meadery, Kapusta Brewing, Dryg Cider,  and Beer Ditch bars.
Iceland, Reykjavik
Iceland is currently considered one of the 'hottest' destinations for visitors from around the world. The island of volcanic landscapes, geysers and waterfalls now attracts more than your typical nature enthusiast. The land of the trolls is emerging as a prime spot for craft and specialty beer fans alike. 
Microbar, found in the heart of Reykjavik, is one of the oldest and cosiest beer pubs. Located near the art museum and harbor, visitors should follow their nose for the seductive smell of beer wafting from the Microbar stairwell. 
Guests can order from the ten taps adorning the counter. Beer from the Icelandic Gæðingur Micro Brewery located in Sauðárkrókur occupies eight of the taps, whilst the other two rotate guest- but always Icelandic- beers. Not sure about Icelandic beer? Fear not, there are also lots of bottled beers from all over the world. Places to visit: Olgerðin Egill Skallagrimsson, Borg Brugghus, BOL brewing, Malbygg, RVK brewing, Mono Brewing project, Oldur etc.
Utrecht, The Netherlands
Maastricht claims the title 'beer capital of the Netherlands', but that's probably because it has a lot of established breweries with 100-year-old beers that you can drink in dated, dark pubs. Utrecht is the hip, young graduate to Maastricht's ageing legend.
De Leckere opened in 1997 and was probably the first official brewery in Utrecht. Their beers are 100% organic and their brews are named after Utrecht landmarks. Its huge popularity and success may have had something to do with many other breweries like Maximus Brewery and Oproer Brewery opening (and staying open) in such a small city. Head to De Drie Dorstige Herten, De Kromme Haring, MiniBrew, Neude Bier and Beers, West, Oproer and Barrels to taste local brews.
Copenhagen, Denmark
The first capital city on this list, because honestly, nowhere else in Denmark does craft beer as much justice as Copenhagen. The city is widely known as a vibrant and young place and like many cities with a young population, craft breweries are in abundance.
Plus, craft beer giant Mikkeller is to Denmark what BrewDog is to Scotland, so many independent Copenhagen craft beer companies have attempted follow in their footsteps. The most notable are Brus and Nørrebro Bryghus, and you can find their brews at craft beer bars Søernes Ølbar, Amager Bryghus, Fermentoren, Caleidoskope Brewing, Kølsters Tolv Haner, Brus, To ØI CPH and WarPigs.
Munich, Germany
Craft Beer Europe
You can't talk about the best beer in Europe without mentioning Germany at least once. However, thanks to Germany's uber strict purity laws which allow brewers only four ingredients per beer (which is essentially the four main ingredients in beer: water, yeast, malt and hops) it's been a difficult journey.
The Munich beer market has been dominated by six large breweries. However, in recent times more creative brewers have started establishing themselves in the Bavarian state capital. 
The Bavarian city may be known for Oktoberfest, which is sponsored by many multinational beer companies, but Munich is also doing lots to bring modern craft beer to the locals with craft breweries like Crew Republic Brewery, which you can find at the simply named Tap House craft beer bar.  "Fresh Beer/Friches Bier" has fourteen taps including the house beer aptly named, "Tilmans beer".  Some of the places to visit: IsarTalerBrauhaus, Doemens, Giesinger Brau, BrewsLi, Munich Brew Mafia, True Brew Brewing, Higgins Ale Works
Zurich, Switzerland
It blows my mind that Switzerland has more breweries per capita than any other country in the world. Switzerland has been secretly knocking back craft beers for years while many of us were none the wiser.
Zurich outnumbers any other Swiss city in terms of craft breweries and bars, so it's a good place to start if you're looking for the best beer in Europe. Storm & Anchor and Dr. Brauwolf are fantastic craft breweries, and you should definitely check out The International, The Alehouse , ECM Brau,  and BIERlab for the best craft beer bars in the city.
Antwerp, Belgium
Like the Netherlands, Belgium has very old brewing traditions that include Trappist monks and transporting barrels of beer by floating them along rivers. So, while Brussels and Bruges are still representing long-established brewing methods, Antwerp is quietly becoming the craft beer capital of Belgium.
Antwerp's chill perspective towards craft brewing lies in its many brewpubs. Brouwerij & Eetkaffee is literally like walking into a huge, modern brewery that just happens to have a bar. Other brewpubs worth visiting are 't Pakhuis, Billie's Bier Kafeteria and Het Zand.
Belgrade, Serbia
The craft beer revolution is refusing to leave any city behind and that includes Serbia's capital, Belgrade. The beer in Serbia, pre-craft beer boom, was mainly uninspiring light lager, so it's not surprising the Serbians caught onto craft beer fast.
Belgrade's signature breweries include Dogma Brewery & Tap Room and Kabinet (noted as being Belgrade's first craft brewery opening in 2014) which you can find at the Samo Pivo bar (literally translating to 'only beer'), as well as Gunners Pub. The Black Turtle is where you'll find the most beer-loving locals on any night of the week. Salto is also a beer that guarantees quality and you shoudn't miss it. Other places: Docker Brewery, Pivzdarija, Tri Kralja, Krafter, Pivnica Žirafa 23, Gvint, Brotherhood Beer House, Beer Wood, Srpska Kuća Piva, Beerland etc.
Helsinki, Finland
Finland too is fighting for the top spot of best newly emerging beer country. About 20 years ago there were only a handful of breweries, now there are almost 100 creative beer makers. For local and international beer go to Sori Taproom. You also need not travel far; this hip brewer is a mere stone's throw away from Helsinki Central Station. To find good beer you can also visit: Barski Helsinki, Lonka Bull & Bottle, Taproom Helsinki, Bier Bier, St. Urho Pub, Rooperin hopstop, Barley & Bait, Konepaja Biergarten, Taproom d20 etc.
Like this post? Comment it. Share it.