Coworking has been a worldwide trend for a couple of years. New coworking spaces are popping up everywhere. It's an office you rent and share with other people. Most of these people are not even colleagues, but other entrepreneurs or freelancers. coworking advantages
It's the ideal place to expand your network.
What is coworking?
Coworking, shared offices or shared office space is the same thing. The three terms refer to a new way of looking at work. As its name suggests, coworking consists of working in a dedicated space that can take various forms such as a furnished café, a classic open space or rental offices.
In these workspaces, workers from all walks of life, independent or not, come together to work independently or to collaborate with each other. For these workers, it is an opportunity to develop their projects by taking advantage, why not, of the knowledge of the other people present and to work in a stimulating environment. It is therefore, you have understood, a great opportunity to create a real professional network and, why not, to give new impetus to your career.
---
How does coworking work?
We do not enter a coworking space as we wish. In fact, you have to pay a subscription which of course depends on the offices, the location and the services made available to the workers. Generally, this subscription takes the form of a price to be paid each month to continue to frequent the coworking space.
In terms of services, this also varies depending on the coworking spaces. Generally, workers obviously benefit from a shared workstation or table to settle in and get to work . Wi-Fi is obviously provided as well as basic necessities such as a printer, photocopier and coffee. It is also likely that meeting rooms will be made available to those who want them with, of course, projectors and flipcharts to work efficiently.
Who does coworking?
coworking advantages
In a coworking space, there are a lot of different profiles. First, there are obviously freelancers who have decided to leave their home to work in a real work environment. Indeed, living in your office on a daily basis can have enormous inconveniences and requires a good dose of self-discipline.
There are also nomadic workers who travel constantly around the world but who still need from time to time a certain stability to work by taking advantage of an internet connection and various services offered by coworking spaces.
Shared offices are also ideal for young start-ups in full development or for other project leaders. Indeed, it is sometimes difficult to start a company from home, especially when you live in a small studio where space is lacking and where it is impossible to bring together a certain number of people. Coworking spaces therefore allow young startups to get started without investing huge sums in offices and taking advantage of all the advantages of shared offices.
Finally, more and more employees of large companies are opting for such offices to meet workers from other backgrounds, expand their network and address book and thus save office space for their employers. But above all, it benefits large companies who see the productivity and motivation of their employees soar, stimulated by the work environment and by the other workers present on site. coworking advantages
---
The benefits of coworking
1. An economic advantage
Let's get to the heart of the matter by directly addressing the issue of money. Yes, coworking saves money , especially if you are self-employed or the owner of a small business. The reason is obvious: no need to pay a fortune for offices for you and your team. Set up in a coworking space and work in a stimulating and motivating environment that will boost everyone's productivity.
You also save money on a whole host of services and materials that you don't have to deal with when starting your company : the coworking space offers you printers, photocopiers, meeting rooms and coffee machines, etc. Less expenses that will allow you to launch your company or a new project with complete peace of mind.
Proof of savings? More and more large companies are encouraging their employees to work in such spaces. On the one hand because it allows them to save money on offices but also because it is beneficial for the productivity of their employees.
---
2. Get out of loneliness thanks to coworking
If you often work from home, you can quickly feel lonely: no one to chat with at the coffee machine, eat alone in front of your computer and you are forced to face the problems you encounter on your own. In the coworking space, you will never be isolated thanks to the presence of other freelancers, project leaders or even employees. And thanks to this plurality of profiles you will easily find help in case of difficulties.
But coworking is not limited to the professional environment. Indeed, events are regularly organized to allow members of these spaces to gather around a beer, a few small dishes or various activities to decompress after a long day. The perfect opportunity to meet new people, both professional and private. In summary, coworking is good for your social life.
Finally, shared offices allow you to truly separate your professional life from your private life by preventing you from always working from home. Indeed, when your place of life becomes your place of work, you can easily become distracted and experience a loss of motivation. This is all the more true as the health crisis has forced us to work more and more at home. Coworking therefore acts as a miracle solution to escape loneliness and the daily grind.
In a recent study, we learned that for 70% of those questioned, joining a coworking space allowed them to better reconcile their private and professional life. It also allows you to gain credibility by receiving your customers in a real meeting room and no longer in your living room.
---
3. Expand your address book and network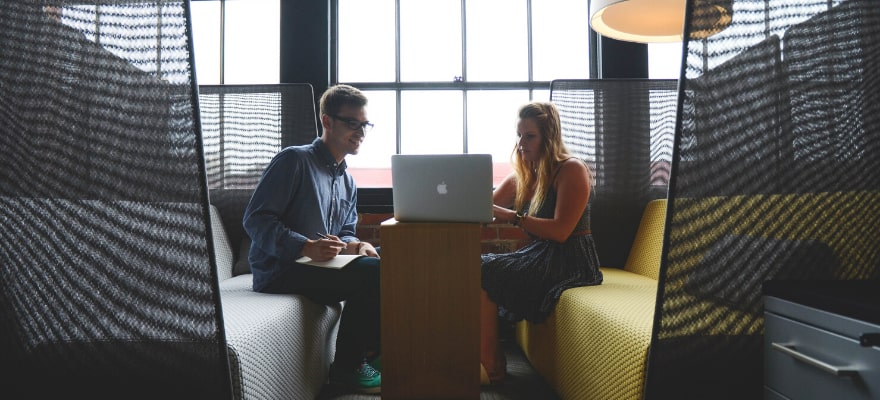 This point is closely linked to the previous one. In shared offices, you will meet workers active in many different fields. Whether they are entrepreneurs, employees, self-employed, they can be active in sectors that may interest you but also your business if you are yourself an entrepreneur. In a coworking space, you will meet not only work mates but also, why not, future collaborators or colleagues for your future projects. Enough to form a solid address book and expand your professional network day by day.
---
4. A motivating and stimulating work environment
In a coworking space, everything is done to make you feel good. And when you feel good, you work better, that's a fact. Give it a try and it's a safe bet that you'll be more motivated and stimulated by your work. And it is also due to the fact that you meet other people who, too, can motivate you to work even harder and give you good ideas for your projects.
Your new comrades can also advise you, listen to you and help you move forward. All the lights are green for you to excel at the office and that can only be a good thing, right?
5. And last but not least: more flexibility
Finally, coworking spaces offer you a very practical flexibility to organize your working days. It's simple: you go to the office whenever you want. In any case, your workstation will be ready to use at any time. If you have appointments or need to stay home, no problem. You thus become master of your days, especially since many coworking spaces remain open 24 hours a day, 7 days a week. coworking advantages
You have only one thing to think about: the development of your activities and your projects. And where it becomes interesting is that your workspace can grow at the same time as your activities and adapt easily to your needs thanks to all the services offered by coworking spaces. You thus get rid of the constraints of office rental leases that expire after a fixed period. You no longer think about the future, just the present and your company.
---
The disadvantages of coworking
1. Noise pollution
Coworking still has some disadvantages even if they are more practical. For example, you may be bothered by some noise pollution, Proximus wrote in their blog. Indeed, coworking spaces are generally made up of open spaces where noise often reigns. People discuss, debate, help each other, telephone and this can create a certain hubbub.
Do not hesitate to bring headphones or isolate yourself if you prefer to work in peace. Moreover, many coworking spaces offer individual rooms to isolate yourself and work in peace. Once again, do your research before taking out a subscription in one of these spaces.
---
2. Lack of confidentiality
Yes, coworking does not adapt to all professions. For example, it would be unthinkable for a lawyer to work in such an environment. The reason is simple: his job is to remain confidential with respect to the files on which he works. In shared offices, it is very complicated to maintain this confidentiality. So, if your profession requires you to maintain the anonymity of your customers or if you need confidentiality, we advise you to look for coworking spaces offering soundproof and closed rooms to discuss with your customers or organize meetings.
---
3. Waste of time
coworking advantages
It obviously depends on the person, but if you are the talkative and curious type, you may waste a lot of time chatting with the other workers in the shared office. So it's up to you to be careful when you go to the coffee machine!
Regus has coworking offices in 3000 Locations,  900 Cities, 120 Countries. Find yours.