European telecom networks are holding up well during the second wave of the coronavirus pandemic, with no signs of network congestion, according to the latest report from the assembly of telecom regulators, Berec. Data from November shows that data traffic continues to exceed pre-pandemic levels, with increases of 60-70 percent on fixed networks as more people work and learn from home. European fixed data traffic
Berec has collected data from national regulators each month since the pandemic began. Its latest report also provides an overview of regulatory measures taken, covering areas such as consumer protection, disinformation, numbering issues and tracing applications. European fixed data traffic
The November report shows all countries reporting 'green' network conditions, with no major congestion problems. Four countries provided more detailed information on the evolution in traffic, with notably Italy, Poland, Malta and Portugal reporting increased traffic in the past month since new restrictions were put in place to curb a the latest wave of virus infections.
In Italy, mobile data traffic peaks are up to 46 percent higher than in February and traffic volume is up 44 percent over the same period. The volume of mobile voice traffic increased by 26 percent, and fixed voice traffic was up 18 percent. The biggest increase was fixed data traffic, which is showing peaks up to 39 percent higher and volume up 62 percent compared to February.
In Poland, most ISPs reported a significant increase in traffic during working hours due to the launch of distance learning. In Portugal, internet traffic increased after teleworking was made mandatory from the week of 2-8 November. Since then data traffic has increased and by mid-month mobile traffic was up 10 percent compared to the week before the pandemic was declared and fixed data traffic was up 72 percent.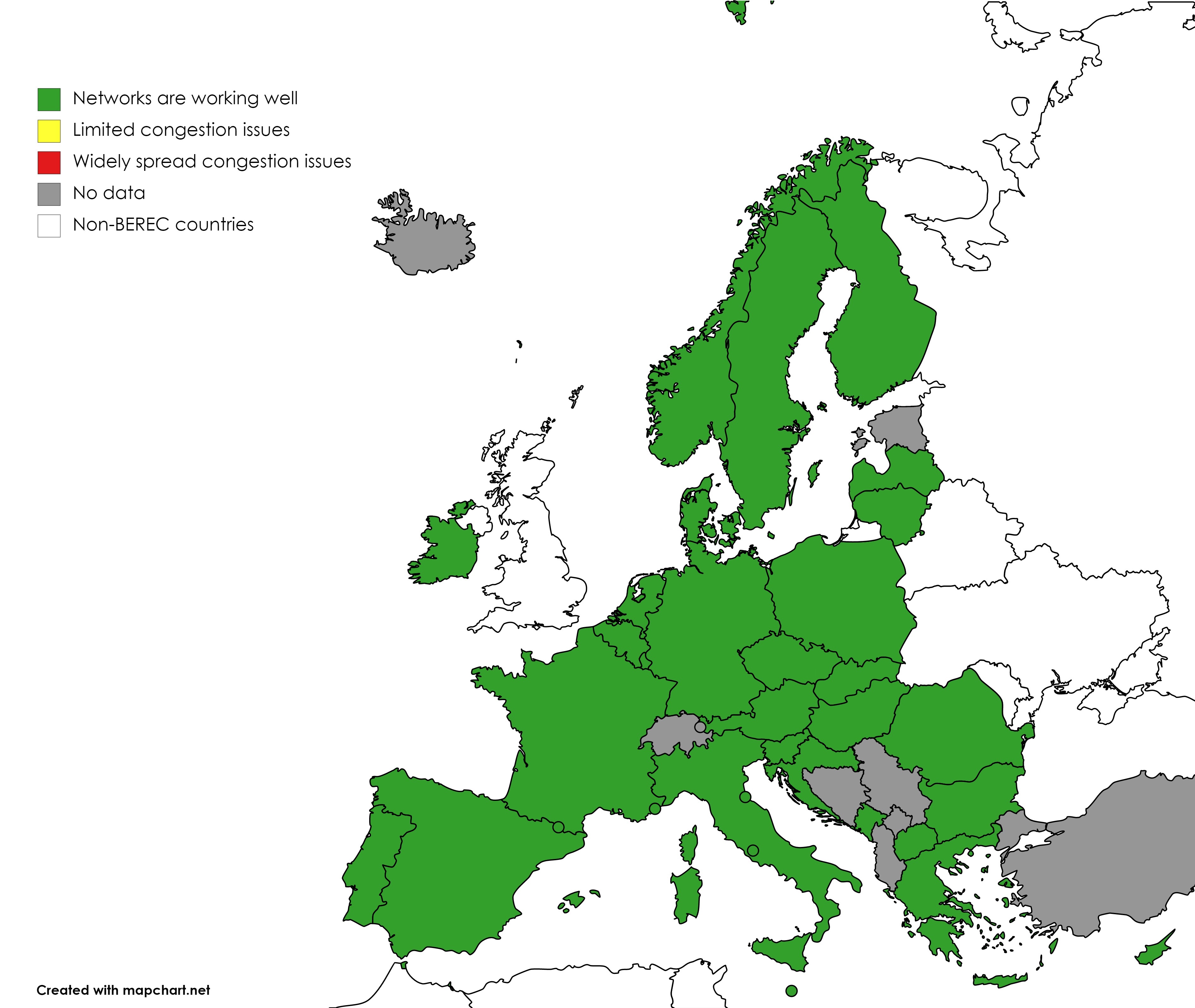 Wholesale regulatory measures
European fixed data traffic
At the beginning of the crisis a few national regulatory authorities adopted extraordinary
wholesale measures in response to the crisis. Examples of specific measures adopted to
improve conditions of service provision are:
• reduction in unit wholesale cost of the incumbent's copper and fibre Ethernet
bandwidth,
• early opening of the incumbent's new fibre cabinet,
• fast provision of transport kits and VLAN,
• request to the incumbent to make its infrastructure available in the whole territory of the
country,
• request to operators to increase bandwidth per consumer or voice interconnection
capacity,
• postponement of earlier adopted measures on margin squeeze tests which would result
in changes to the contracted prices during the crisis.