Beginning this month, AT&T is giving more customers access to our fast, reliable, and secure nationwide 5G and our even faster AT&T 5G+. We're showing appreciation for our long-term customers on previous generation unlimited plans by adding AT&T 5G and 5G+ access to their accounts, all at no extra cost. 1 at&t unlimited 5g
"In another move to reward our most loyal customers, we're proud to expand 5G access to more customers on our unlimited plans," said David Christopher, executive vice president and general manager, AT&T Mobility. "Now, more customers can experience fast, reliable, and secure nationwide AT&T 5G when working from home or on the go, connecting to loved ones, playing their favorite games, or watching their favorite HBO Max shows."
More 5G on More Unlimited Plans Starting this month, we will begin adding AT&T 5G and 5G+ access to these previous-generation consumer unlimited plans: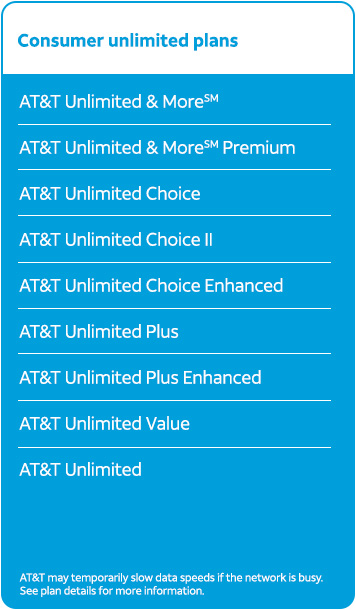 Starting in April, we will begin adding AT&T 5G and 5G+ to these AT&T Business Unlimited plans: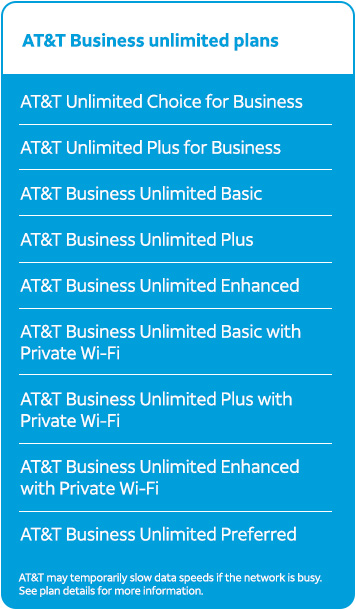 AT&T 5G. Fast. Reliable. Secure.  We're making it easier for customers to experience our fast, reliable and secure 5G. Our nationwide AT&T 5G network, now reaches more than 230M Americans in more than 14,000 cities and towns. Our super-fast AT&T 5G+, is available in parts of 38 cities across the country.
Best Value on our Current Unlimited Plans If you're a customer on our current AT&T Unlimited StarterSM, ExtraSM and EliteSM plans, you already have 5G access included.1 You can also take advantage of Unlimited Your WaySM, which allows you to choose the unlimited plan that is best for each family member, without everyone on your account having to be on the same plan — or paying for more than you need.
If you're on our best unlimited plans, Extra and Elite, you get the added benefit of advanced mobile security and hotspot data included in your plan at no additional cost.4 And if you're on AT&T Unlimited Elite you get HBO Max TM included on us.5
If you're a business customer, 5G access1 is already included with our current AT&T Business Unlimited Starter, Performance, and Elite plans. 2
How will I know when I get 5G? If you're a customer on the above-listed previous generation unlimited plans and you have a 5G capable device and are within the AT&T 5G network footprint, you will be notified by text message or email that we are adding 5G to your plan.
1 AT&T 5G requires compatible plan and device. 5G not available everywhere. Go to att.com/5Gforyou for details.
2 AT&T may temporarily slow data speeds if the network is busy.  See plan details for more information.
3 Plan already includes 5G+ (millimeter wave spectrum) access for compatible devices.  5G (sub-6 spectrum) access will be added at no additional charge.
4 Compatible device required for AT&T Mobile Security App and Call Protect App access. Download of Apps required.
5 Compatible device and online account required for HBO Max access. Video may be ltd. to SD.