Tencent's WeChat has become the default messaging app of everyday life in China, but there's one territory that it has yet to conquer: the workplace. One of the reasons WeChat isn't best tool for work: file transfers, for example: it only allows files under 20MB to be sent among users. dingtalk app
Meanwhile, Tencent's archrival Alibaba has grown Dingtalk into a dominant player in China's US$1.12 billion market for workplace apps.
Launched in late 2014, Dingtalk counted 7 million enterprise clients in June and surpassed 100 million registered users last December, according to an internal message that CEO Chen Hang sent to his staff.
Like WeChat, which has branched out to offer a host of services spanning ride-hailing to hospital queuing, Dingtalk isn't just for text messaging.
[bs-quote quote=""Enterprise software-as-a-service belongs to the PC era, Your entire company is run on the internet today."" style="default" align="left" author_name="Zhang Sicheng " author_job=" Dingtalk vice president"][/bs-quote]
The idea is that in the future, people will do much of their work from inside the chat app. This could include basic tasks like file sharing, as well as other functions that weren't traditionally handled by enterprise apps – such as booking business trips and procuring office stationery.
Like Alibaba's other services, be it ecommerce marketplaces Taobao and Tmall or logistics network Cainiao, Dingtalk adopts an "asset-light" approach that brings third-party suppliers onto its platform. The app still runs some of the core functions in-house – messaging being one – but it doesn't want to do everything itself.
"Enterprise security, for example, has become in demand these days. But Dingtalk isn't going to provide the service. Our partners are," says Zhang.
Dingtalk's app store features third-party providers that offer everything from customer relationship management to matchmaking services.
Failed attempt to challenge WeChat
dingtalk app
It may be tempting to see Dingtalk and WeChat as rivals because messaging lies at the core of both, but the former wasn't designed to take on the latter. Workplace activities are, for the most part, separate from personal ones. People booking a hotel room for vacation may not bother getting a receipt as they would if they were booking it for a work trip.
Tencent, on the other hand, is widely known for its near obsession with user experience. WeChat's relatively slow path to monetization is often pegged to the company's reluctance to disturb that experience.
Quiet ascent
Dingtalk learned its lesson from Laiwang and set out to focus on product building. Every Friday, the team would visit its enterprise clients, sit next to them, and watch them use the software. To date, Dingtalk has observed about 10,000 of these companies.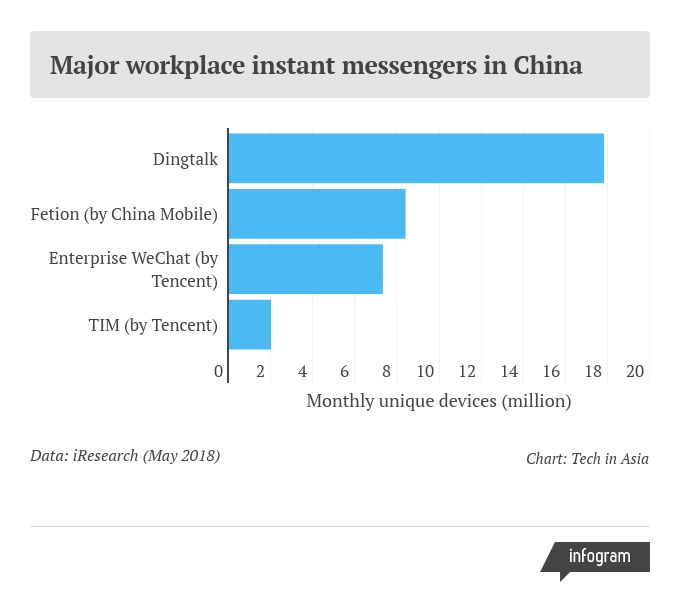 The battle is far from over. China's mobile enterprise market is still rapidly expanding and is estimated to more than double to US$1.82 billion by 2020, according to data research firm Analysys.