The Apple AirTag is a simple tool for tracking your stuff. Simply attach them to an item, and your Apple iPhone will let you to follow its whereabouts. These have become very popular for checked bags when flying, even though this was probably not their major initial purpose. airtag on plane
It's great to always know where your checked suitcase is, even though some airlines offer baggage tracking. Given how frequently airlines are uncommunicative, it is particularly helpful in cases where your suitcase is delayed or misplaced.
AirTags are reportedly no longer permitted in checked baggage in Lufthansa airplanes, according to German media.
Lufthansa argues that baggage trackers fall in the category of portable electronic devices, and are therefore subject to dangerous goods regulations issued by the International Civil Aviation Organization (ICAO). This is specifically because of the transmission function. Lufthansa claims that the transmission function needs to be turned off during flight when in checked luggage, just as is required for cell phones, laptops, etc.
So you can leave an AirTag in a checked bag, it just can't transmit, which of course renders it useless. As of now, no other major airline has issued a similar ban, and international aviation authorities also haven't issued any sort of warnings about AirTags.
Hi David, Lufthansa is banning activated AirTags from luggage as they are classified as dangerous and need to be turned off./Mony

— Lufthansa (@lufthansa) October 8, 2022
European Airports have been losing luggage
It's no wonder travelers are taking luggage tracking into their own hands. Lost luggage had been piling up at Frankfurt Airport as customers faced "disgraceful" queues and last-minute cancelations. Staffing shortages, last-minute airline cancelations, and booming traveler numbers have created a perfect storm at the beleaguered German airport.
The other major question is whether Lufthansa is technically right here. Do regulations actually require that all portable electronic devices have their transmission function disabled when in checked bags? The International Air Transport Association (IATA) has an infographic that says "if you must pack your tablet, mobile or laptop in your checked luggage, be sure they are completely turned off."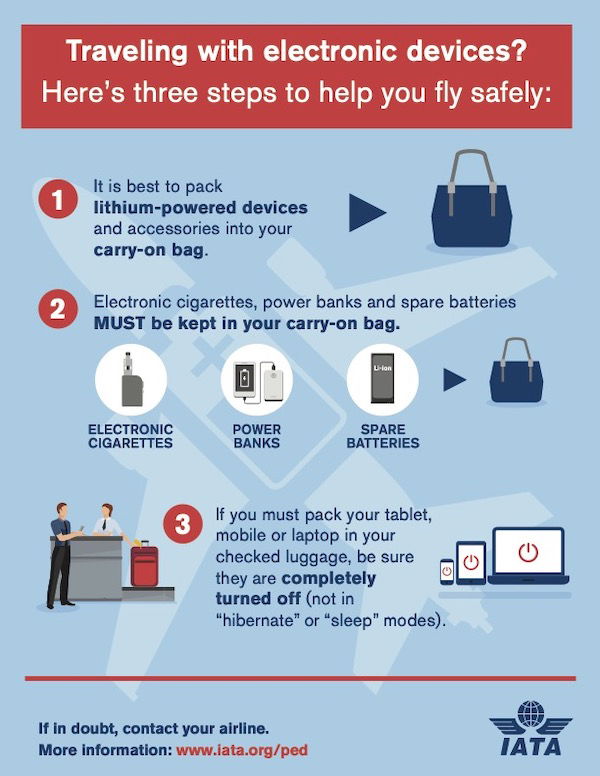 IATA's stance
While the International Air Transport Association (IATA) establishes the rules for what can and cannot be taken in checked luggage and publishes these in their 'Dangerous Goods Regulations' manual, AirTags are yet to feature. IATA policy states that 'electronic devices in checked luggage must be completely turned off.' It appears that Lufthansa has taken this advice to justify the prohibition of the AirTag.
Conclusion
airtag on plane
Lufthansa has become the first major airline to ban AirTags from checked bags. Or more accurately, Lufthansa is using the standard policy for checking personal electronic devices, which requires that they be powered off, and that renders AirTags useless.