According to research company Counterpoint, the launch of new 5G iPhones will give a powerful impetus to the development of 5G communication networks in Europe.

5G expansion in Europe
Currently, 45 5G networks operate in 20 European countries. In four European markets, the UK, Austria, Finland and Spain, all national operators have already launched their 5G networks. Another 32 carriers in 13 countries have announced that they will roll out 5G networks soon.
At the same time, it is noted that even despite the large number of launches, coverage with new generation communications is still highly heterogeneous on the European continent. So, in the UK, only 30% of the population lives in 5G coverage areas.
This situation leads to the fact that, according to data for July, sales of smartphones with 5G support are still no more than 11% of the total number of smartphones sold. The release of the iPhone 12 could change things. 5G expansion in Europe
Experts say that in developed markets such as Germany, Great Britain and France, iPhone users make up up to 30-40%, in addition, they are the target audience as subscribers of 5G networks.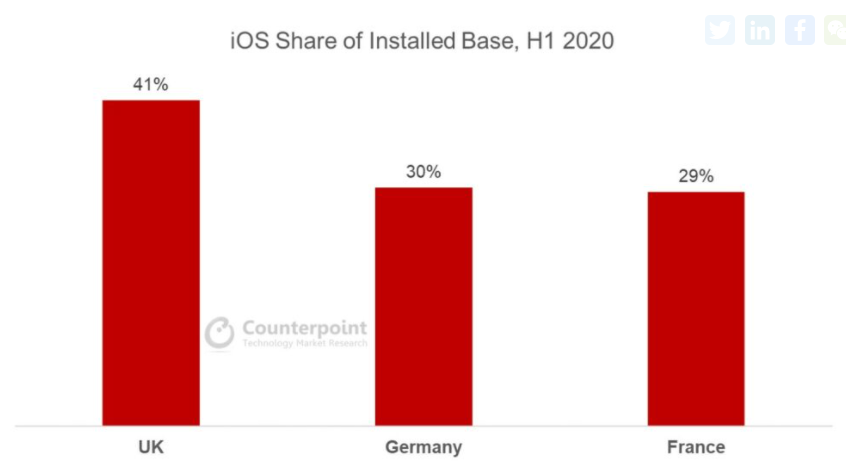 The 
5G Action Plan for Europe
 (5GAP), adopted by the European Commission in September 2016, calls for actions to achieve uninterrupted 5G coverage in all urban areas and along all main transport paths across Europe by 2025. In particular, it is expected that the 5G infrastructure will be a key enabler for the development of connected and automated mobility (CAM), providing a broad range of digital services to the vehicle and paving the way to fully autonomous driving by the end of the decade on specific sections of roads equipped with 5G. It is also expected that 5G infrastructure will provide Gigabit connectivity to trains and support the digitalisation of rail operations and inland waterways.
The EU is funding 11 new technology and trial projects to enable 5G ecosystems in Europe. These include eight new projects that aim to build a first-class European supply chain for 5G hardware. In addition, three new projects will provide applications in cross-border connected and automated mobility. The cross-border projects will provide 5G connectivity and pave the way for autonomous driving on main road, train and maritime routes.